Morgue
(2008)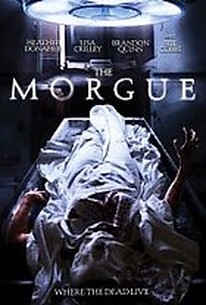 AUDIENCE SCORE
Critic Consensus: No consensus yet.
Movie Info
Rating:
R
Genre:
On DVD:
Runtime:
Audience Reviews for Morgue
Don't bother waiting for the "astonishing twist". Now, I'm a bit of a B-movie fan, but watching over half of this was just painful. It begins with random sequences of seemingly unrelated scenes, characters, and events. The method of telling this story just fails hard, and the terrible plot takes way too long to even materialize. The music sounds like it was randomly generated, and more tacky/goofy at the most (intended to be) suspenseful parts. The acting is beyond terrible. Some of the cast seems like they just didn't even feel like trying. There is such an incredible lack of urgency displayed throughout this movie. I'm sorry, but if someone's seriously injured and dependent on my help, I'd put at least a LITTLE bounce in my step. The dialogue isn't even amusing in its atrocity. It's open, unguided, undriven, unnatural, and the awkward silences and pauses quickly start going to work on sinking this movie from the very start. The back cover of the DVD case said, "There is an astonishing twist in this INTENSE psychological thriller...more is happening at the Morgue than meets the eye." The twist is probably the suddenly revelation of an actual plot, albeit cliché, uninspired, predictable, and really just leaving the audience not even wanting to know.
Nick Bilodeau
The Morgue is a horribly predictable B-movie that doesn't do anything for the watcher and drives people to bordem.
Austin Edwards
I watched about 30 minutes of this movie, and that was about 29.9 minutes too long. It was just plain old BORING!
alicia mac
Morgue Quotes
There are no approved quotes yet for this movie.