Morlang
(2003)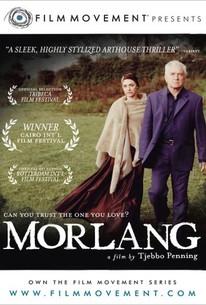 Movie Info
Everything seems to be going right for Julius Morlang (Paul Freeman, best-known as the villainous Rene Belloq in Raiders of the Lost Ark). He lives with his beautiful young girlfriend, Ann (Susan Lynch of From Hell), in a lovely cliffside home on the Pacific coast of Ireland. His once-stagnant art career is undergoing a resurgence and his agent (Eric van der Donk) tells him, "You seem a little happier. It's in your work." But things begin to fall apart when someone breaks into his home and ransacks it, leaving a cryptic message. Through flashbacks the audience discovers the truth about the death of Ellen (Diana Kent), Julius' wife of 15 years. Julius soon finds his new life with Ann threatened by a malevolent figure from his past. The basic premise of Morlang, Tjebbo Penning's directorial debut feature, was inspired by a television news story. Penning's film won awards for Best Lead Actor (Freeman) and Best First Film at the 2001 Cairo International Film Festival. It was also shown in competition at the 2002 Tribeca Film Festival.
Critic Reviews for Morlang
Audience Reviews for Morlang
A subtle film that explores the limits of jealousy. In flashback, a successful artist recounts two recent loves, the first his wife, the second a mistress. The film takes a while to get moving on the plot, but is artful in the mean time with some amazing transition shots. Our artist finds himself holding information that could save his wife's life, but she has also recently told him that she had an affair, and used the following words in her less than humble confession: every, position, many, times. What would you do?
Ryan Mahon
½
Sad story about a man whose art was more important to him than relationships. Betrayal, revenge, and hidden emotional landmines combine to make this hard to take. The back and forth story telling made it dificult to follow and this viewer found it extremely difficult to piece together the whys. Why does he push his wife into the arms of another man and then punish her for the consequences? Why does she go along with it when she obviously does not want to. Why does he decieve her and make the ultimate betrayal? And why did the authorities never question the suspicious nature of her death? This was all based on true events, so I suppose the film-makers had to be faithful to what really happened, but as a film, it was less than satisfying. Pretty grim stuff.
Mark Abell
Super Reviewer
Penning's feature directing debut, which he co-wrote, has visual flair but lacks the tightly plotted storytelling this type of film requires. Relying on mood isn't enough to make the outcome truly compelling.
Lee Mayo
Morlang Quotes
There are no approved quotes yet for this movie.
Discussion Forum
Discuss Morlang on our Movie forum!