Morning Departure
(1951)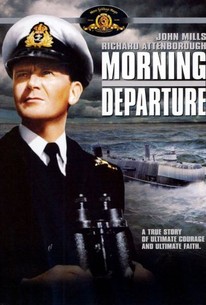 AUDIENCE SCORE
Critic Consensus: No consensus yet.
Movie Info
On a routine postwar mission, a submarine strikes a forgotten mine and sinks to the bottom. The twelve-man crew comes face to face with the probability of permanent entombment and suffocation; the tension is sharpened when it is learned that only eight of the men will be able to escape.
Critic Reviews for Morning Departure
Audience Reviews for Morning Departure
½
Nice bit of post-war militarism.
Randy Tippy
Super Reviewer
"Morning Departure" starts with Lieutenant Commander Peter Armstrong(John Mills) being woken up from a restful slumber by the cries of his infant child. While he is getting dressed, his wife Helen(Helen Cherry) takes the time to talk to him about the opportunity of becoming a manager in one of her father's factories which he is very reluctant about, even though this is now peacetime. That having been said, there are still naval duties to perform like this morning's training cruise on a submarine. Everything goes as planned for the first few hours until a mine is spotted. Even after evasive maneuvers, there is still an explosion that only leaves 12 out of the original 65 crewmen alive, with the survivors stranded at the bottom of the sea. Amazingly, Armstrong announces a rescue plan that sounds simple enough. Now, they just have to wait, sleep or break out the Parcheesi board... "Morning Departure" is a riveting movie with some excellent underwater photography for the time and a perfectly understated performance from John Mills in the lead as the very picture of resolute calm. However, there is one bit of casting that does not work as well as planned, leading to a little bit of predictability. And I know some people may want to put the crewmen's calm in such a desperate situation down to little more than a British stiff upper lip, but I think it has more to do with having so little control over one's situation. As one character puts it, most deaths at sea are down to bad luck or bad weather. Surprisingly, even in such a closed space, we get a very good idea about postwar England with many references to domesticity in the opening minutes that go beyond just establishing the plot. As time goes on, the British class lines start to disappear altogether.
Discussion Forum
Discuss Morning Departure on our Movie forum!