Morning Light
(2008)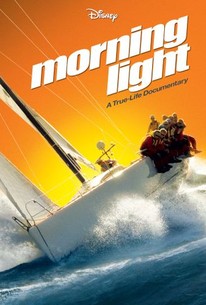 Movie Info
A group of 15 young sailors prepares to compete in the most revered open-ocean sailing competition in the country, and the director and editor of the 2006 surfing documentary Riding Giants keep their focus on the water in order to capture the adventure of a lifetime. Racing in the Transpac is no easy feat; after enduring six months of grueling training, the daring young crew of the Morning Light will engage in a 2,300-mile endurance against the most experienced sailors in the country. In the process of becoming a world-class team, however, this group will form a bond incapable of being broken by even the most massive of ocean waves.
Critic Reviews for Morning Light
Audience Reviews for Morning Light
½
If you've never sailed, you shouldn't watch this movie. If you think this was intended to be a blockbuster... to be judged on sales figures, pretty faces, star names... please stay away; you'd have no reference point nor would you, understandably, have the slightest reason to be interested in its content. If you have sailed, on the other hand, you know exactly what it's about. It's not about editing or a story line. Even if it was just a story told around the dinner table or at a bar near some seaside, to a sailor it would be moving and engaging. Beautiful views, settings, situations - the thrills, the frustrations - that can only be experienced from the vantage point of a boat being thrashed about on the vast, open sea. For what it was intended to be, this documentary hits the target.
Lou Savage
½
It's a fine little documentary but it comes off more like a commercial for the race more than anything else. It tells us about the people chosen for the TransPac sailing race and their six month training. But it all goes really fast and then we are in the race and then it's over. There are eleven people on the team but we really don't take time to get to know them. Plus there are voice overs read by the kids on the boat that don't have any emotion to them. That got old real fast.
Jason Spencer
Super Reviewer
½
Mostly a movie for people who love sailing for people that dont will still enjoy the story of the people and why there there.
Matthew Smoot
Morning Light Quotes
There are no approved quotes yet for this movie.
Discussion Forum
Discuss Morning Light on our Movie forum!