The Mortal Storm
(1940)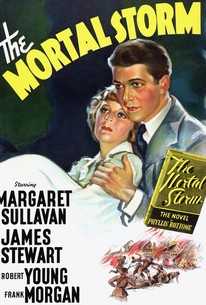 Movie Info
The Nazi Party's rise to power has disastrous consequences for a German family in this drama. Victor Roth (Frank Morgan) is a college professor teaching in Germany in 1933 who leads a peaceful and contented life with his wife Emelie (Irene Rich), son Rudi (Gene Reynolds), daughter Freya (Margaret Sullavan), and stepsons Otto (Robert Stack) and Erich (William T. Orr). However, Adolph Hitler's emergence as Germany's ruler has an unexpected impact on their lives. Fritz (Robert Young) and Martin (James Stewart) both vie for Freya's hand in marriage, but anti-Nazi activist Martin is forced to flee to Austria, while Freya is disturbed by Fritz's membership in a pro-fascist group. Victor repudiates Hitler's theories about Aryan superiority in class, and he not only loses his teaching position, but he is sentenced to a concentration camp. And while Emelie and Rudi join Freya as she tries to escape to Martin's new home in Austria, they find themselves hunted by Otto and Erich, now members of the Hitler Youth. The Mortal Storm was perhaps the most explicitly anti-Nazi film made in Hollywood prior to America's entry into WWII, and it resulted in all of MGM's product being banned in Germany.
Rating:
NR
Genre:
Directed By:
Written By:
In Theaters:
On DVD:
Runtime:
Studio:
MGM
Critic Reviews for The Mortal Storm
Audience Reviews for The Mortal Storm
½
A well scripted film dealing with the maelstrom that was Hitler's Third Reich. Similar to how the US's civil war divided families and a nation, a university professor's family and friends are taken in different directions - each trying to be loyal to either their family values or their nation. There is no room for compromise. This film should be watched by all high school and college history classes. Just a shame that more detail isn't given as to why Chancellor Hitler was greeted as a strong leader at the time - the German people had been bullied by the Allies after WWI!
Christopher Bergan
½
Pretty bold for being anti-Nazi in the middle of WWII. The story and acting are pretty average, but Jimmy Stewart is always good. Occasionally there's some old-time melodrama in a bad sort of way. However, the tension between the heroes and the Nazis works very well.
Andrew Kern
½
TV description of this movie is as follows: An austrian farmer and a professor's daughter flee nazi Germany on skis. While I suppose this description is fair, it fails to get to the heart of the film and what it's really going for. Made in 1940 (although srt in 1933), before America entered into WWII, The Mortal Storm tells the story of Prof. Viktor Roth, a professor at the local college who, as the film begins, is celebrating his 60th birthday. The community seems unified in it's outpouring of love for this respected teacher, as do his children and step-children. That night, as they are eating the birthday cakte, it's announced that Adolf Hitler has come into power. Some, like his two stepsons (Robert Stack, William Orr) and his daughter's fiance (Robert Young), are over-joyed. Others, like student and family friend Martin Breitner (James Stewart) and the professor himself are not. Those who are pro-Hitler are very excited to see their once great and proud Germany restored to it's former glory, while the others worry this new Germany might not have any room for dissenting opinions. Of course the dissenters have a great deal to worry about, like the old man who's beaten up in the streets by five nazi thugs for not singing along to their murderous, warmongering anthem. When the family patriarch is arrested for teaching that there is no physiological difference between aryan and non-aryan blood, the free thinking citizens of the town look to flee the country. Yes there are skis involved, but this film is more about the subjugation of the individual to mob hysteria. It says on IMDB (my favorite movie source) that Hitler so hated this film he banned all MGM movies from the country. That should be a more powerful endorsement of this film than anything I could write.
Devon Bott
Super Reviewer
The Mortal Storm Quotes
| | |
| --- | --- |
| Lehman: | [apprehensively] Heil H.... |
| Professor Victor Roth: | Good Afternoon, Lehman. |
| Lehman: | Good afternoon. Th, there's a new order, I should say "Heil Hiter", but I won't, not to you. |
| Lehman: | Good afternoon. Th, there's a new order, I should say 'Heil Hiter', but I won't, not to you. |
| Professor Victor Roth: | Thank you Lehman. |
| Lehman: | That is, unless some of the other gentlemen are present, or the students. |