Moscow, Belgium (Aanrijding in Moscou)
(2008)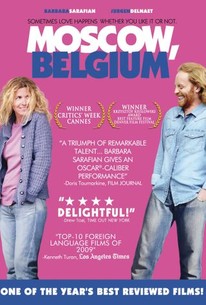 Movie Info
Belgian director Christophe Van Rompæy helms the frenetic romantic comedy Aanrijding in Moscou. This farce opens with a seemingly calamitous turn of events when 29-year-old professional truck driver Johnny (Jurgen Delnaet) accidentally slams his rig into a car in the middle of a supermarket parking lot. Lo and behold, the car happens to belong to 41-year-old homemaker Matty (Barbara Sarafian), prompting a nasty fight between the two. In the middle of the argument, however, Johnny becomes unshakably convinced that Matty is his dream girl and determines to win her for himself -- despite the fact that she is married.
Critic Reviews for Moscow, Belgium (Aanrijding in Moscou)
Audience Reviews for Moscow, Belgium (Aanrijding in Moscou)
½
An interesting take on the old romantic comedy formula, that follows the playbook fairly faithfully. But still, the idea of a younger man and an older woman as played by these actors made it work for this viewer. Both Matty (Barbara Sarafian) and Johnny (Jurgen Delnaet) are volatile characters and when these two collide (literally) sparks definitely fly. Matty's husband has been shacking up with his 22 year-old lover, but isn't willing to cut his ties to Matty. And Johnny is a recovering alcoholic who has been in trouble with the law in the past. Matty seems caught between a rock and a hard place and whenever she seems ready to choose which direction to move, complications arise. This viewer was deeply invested in seeing Matty find the happy life she once swore she would have. A solid supporting cast and a solid story helped but I credit the two main actors on a terrific performance.
Mark Abell
Super Reviewer
½
A disillusioned 40-ish mother of three is battling with a husband who wants to leave their family, indeed, has already left, when she meet a charming truck driver with a very ugly past. A romantic comedy with bad teeth as neither of these characters are of Hollywood-lite stereotypes, but their flaws are what make this a different movie, a realer one.
Kevin M. Williams
Super Reviewer
½
Not often I got to see a good Belgium movie, but this one was new fresh and funny. Matty, a frustrated mother of three who has been abandoned by her husband for a younger girl and who not only wondered what her life was all about but mostly what the future holds in for her now that she had reached 41. Her encounter with a trucker Johnny during a traffic accident made a turning point in her life. Johnny felt attracted to Matty who was 12 years older then him. As the story unfold we learned that Johnny had a past and drinking problems and that what made the story more interesting. Barbara Sarafian's portrayal of Matty was excellent.She was a real woman,she cared about her age, her looks, her responsibilities, her future and her feelings.Jurgen Delnaet who played Johnny succeeded brilliantly in portraying the trucker in search of a strong woman who will guide him on his way.The dialog was natural and so was acting of the whole cast.
Daisy Maduro
Super Reviewer
Moscow, Belgium (Aanrijding in Moscou) Quotes
There are no approved quotes yet for this movie.