Moscow Zero
(2006)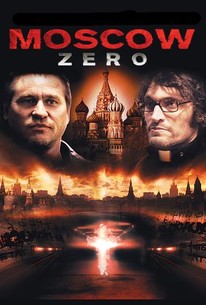 AUDIENCE SCORE
Critic Consensus: No consensus yet.
Movie Info
When a Russian anthropologist disappears beneath the city of Moscow, the rescue team assigned the task of tracking him down makes a most unusual discovery in this subterranean thriller starring Vincent Gallo and Val Kilmer. Deep beneath the city of Moscow dwells a group of people who have grown tired of life on the surface. They exist in a complex, multilevel system of caves and catacombs. When a rescue team descends beneath the city in search of a missing anthropologist, they are shocked to discover the underground city, and come face to face with the man who serves as their leader (Kilmer).
Critic Reviews for Moscow Zero
All Critics (3) | Fresh (0) | Rotten (3)

Ozus' World Movie Reviews
...it's ultimately difficult to recall a more objectionable direct-to-video endeavor in recent memory.

Looking to experience poo at its stinkiest? Look no further than Moscow Zero
Audience Reviews for Moscow Zero
The graphics were good. Keep me interested in the film. Val Kilmer should have a bigger role in the film. He was depicted as a back ground actor.
Antonio Nunes
My wife checked this one out from the library. She saw Val Kilmer's name and thought to give it a shot. He got first billing but is in this piece of trash for about 4 1/2 minutes or so. Must have a decent agent, but made a mistake being a part of this. The story had an intersting premise, but does not deliver anything remotely interesting. Don't waste your time like I did...
Simon Fick
I?ve stalled with watching this for a long time because it just didn?t seem good, but I?m a fan of Kilmer and possible fan of Oksana, so it stayed in queue for a long time. I bumped it up finally. And I can?t say I was disappointed, because I didn?t expect much. And it still underdelivered. And too much blue filter in the above ground scenes. I get it. Stop it. A strange aside, Vincent Gallo plays a priest in this movie. Was this casting a joke because he?s been in movies like Trouble Every Day and made Chloe Sevigny go down on him on film? Not to mention this priest is in a wholly illogical and inappropriate relationship angle. Kilmer plays the guardian to the Moscow underground and gets the accent down pretty good but seems like he just wanted a free trip to Spain to film the movie. Poor Lilya didn?t even learn enough English for the movie, as she speaks Russian most of the time to her costars who speak English back like they understand everything perfectly. And the movie isn?t scary at all. There are a couple of creepy moments, but not nearly enough to carry on, which makes this very boring. The digital camera fun house POV shots aren?t explained right away, which makes you wonder if it was an added effect at first. And the ending doesn?t bring closure to much. Oh, and this movie has Sage Stallone in it. I don?t remember him having a line in it, but it was hard to stay awake during this movie. Pass.
Lee B
Moscow Zero Quotes
There are no approved quotes yet for this movie.
Discussion Forum
Discuss Moscow Zero on our Movie forum!