Moss
(2010)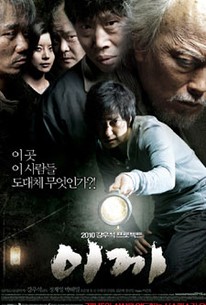 AUDIENCE SCORE
Critic Consensus: No consensus yet.
Movie Info
Ryu Mok-hyeong, a member of a small prayer house located in a remote mountain village, is well-respected for his leadership and gift of speech. In order to build a new prayer house, Mok-hyeong leaves the mountains to build a new village with the help of his friend, Yong-duk. Many years pass and Mok-hyeong is discovered dead. Mok-hyeong's good-for-nothing son, Ryu Hae-guk, arrives from Seoul to attend his father's funeral. Hae-guk soon realizes that the villagers are trying to hide something from him leading him to seek the help of Park Min-uk, the public prosecutor responsible for his demotion to a local branch during his more reckless past.
Critic Reviews for Moss
There are no critic reviews yet for Moss. Keep checking Rotten Tomatoes for updates!
Audience Reviews for Moss
While the destination, as expected, wasn't satisfying enough, the journey was worthwhile. Given its runtime, I was quite hesitant to watch it, but thankfully it paid off well enough. My use of fast forward button was relatively less in this 160+ minutes flick. Not the edge-of-the-seat or 'keeps you guessing' kind of thriller, but kept me engaged more than less.
familiar stranger
Super Reviewer
½
If you cut about 40 minutes off of this, you'd have such a better movie on your hands. There's no real reason this movie should be 20 minutes short of THREE FUCKING HOURS. There's just no reason at all. It just doesn't work, especially when all the characters pretty much share the same experiences. If this was like a Pulp Fiction, wherein they're all related to one another but their individual stories are vastly different from each other then it might've worked. But the movie pretty much ALWAYS gives you the same perspective no matter which character is on screen. And that's a problem. The story is interesting enough to where you don't feel like you're wasting time watching it, but it can be a very tedious movie to watch sometimes. The writing is good, the acting is strong, the cinematography is excellent. But the length of the movie just KILLS it for me. What should've been a tighter story just goes on and on and on and on and on. It just doesn't fucking stop. I really believe if this movie was approximately 2 hours long, it would've been a pretty great movie. I can believe that, because there are some really great moments on this movie. It's just surrounded by shit that doesn't really need to be there. The make up on Jae-yeong Jeong is actually really damn good. I think they went a bit far on the spots on his face, but other than that it was really good. And Jae was definitely a highlight again with his, typically, strong performance. And the twist is definitely a very stupid one. *SPOILER ALERT* Ryu's father died because he wanted his son to come to town to deal out his own judgment. What the fuck does that even mean? It makes absolutely no sense. Then again, it was strongly hinted at the end that Yong-ji killed Ryu. Yes we watched THREE hours of this and they didn't bother telling us what ACTUALLY happened. See...that shit works in shorter movies. But since you had us watch for THREE hours and you didn't really solve anything, that's simply bullshit. Some of this movie was great, some of it wasn't. Only watch if you have the tolerance for the length. Trust me, it won't be an easy three hours.
Jesse Ortega
Super Reviewer
Just to sum up how awesome this film was, I watched 3 other films on the same day as this one, and there were moments where I started to nod off in each of those. Not in Moss, and that was at least an hour longer than the 3 other films. It's a testament to the strong writing and complex plot, just how well I was emerged in the drama and tension. Moss takes place in a small town which has been specifically built for criminals that really want to rehabilitate. After one of the founders dies, his son comes and suspects foul play. He outstays his welcome and soon starts uncovering secrets of the town. Moss works due to its length. Where other thrillers try and condense the twists and turns and action into 2 hours, they often leave out humanity. Moss has some wonderful examples of humanity and some great characters. Corrupt detectives, suspicious townsfolk etc. All living in the name of justice, but their levels of hypocrisy are the secrets. The film holds up due to a wonderful subplot in which Ryu (the son) must team up with a prosecutor he has disgraced, in order to get to the bottom of everything. This relationship is fun to watch unravel, as they hate each other, but don't resort to annoying, childish, petty mind games. He may have been banished from the city, but the prosecutor is still interested in doing his job. Like many Korean thrillers there is a sense of humor, even at the darkest of times. It's shot beautifully, capturing the calming power of nature and the eerie reclusive feel that comes with it. The exposition scenes can be long and tiring, but they are inter-cut with flashbacks that remind us of the brilliant make-up work on show. A great, reliable, genre piece.
Luke Baldock
Super Reviewer
Moss Quotes
There are no approved quotes yet for this movie.