Äideistä parhain (Den Bästa av mödrar) (Mother of Mine)
(2005)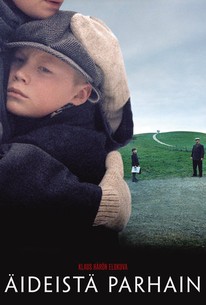 AUDIENCE SCORE
Critic Consensus: No consensus yet.
Äideistä parhain (Den Bästa av mödrar) (Mother of Mine) Videos
Äideistä parhain (Den Bästa av mödrar) (Mother of Mine) Photos
Movie Info
The plight of displaced Finnish children sent to Sweden and Denmark to escape the horrors of World War II are explored in director Klaus Härö's tale of a young boy failing to adapt to his strange, and sometimes harsh, new surroundings. Following the death of his father, nine-year-old Eero (Topi Majaniemi) is sent by his mother to live with a foster family in rural Sweden for the duration of the war. Eero is begrudgingly accepted by a surrogate mother who had been hoping for a young girl to help with the chores, and he's mocked by his classmates for his frightened reaction to passing planes. Eero's already troubled childhood is further complicated when his resentful foster mother takes it upon herself to act as a filter for his mother's incoming letters.
Critic Reviews for Äideistä parhain (Den Bästa av mödrar) (Mother of Mine)
All Critics (3) | Top Critics (1) | Fresh (3) | Rotten (0)
The story is brought to vivid life by the strong cast.

Hollywood Reporter
Top Critic

Ozus' World Movie Reviews
Though unnecessarily bookended by contemporary scenes, its superbly acted central section is powerful indeed.

Audience Reviews for Äideistä parhain (Den Bästa av mödrar) (Mother of Mine)
½
https://dutchelm.dps.state.mn.us/dvsmain/index.htmgbnnnnhhmb. Nnnn. ',milk.l,.klMjkkk &'pmjjjkkjkj$80 Jillijklojkomokkokokkkkkkklkkkkkllkjhjhkjljjjhkhk .......htffgggtvgggjk.ju Kay klMjkkk,kl.Vkh
Jay Hilley
Worse Than the Pevensie Children, and No Narnia The impulse, of course, is to get the children out of danger. This is a good and sensible one, of course. Children die in war, and they are by definition innocent bystanders. Getting them as far away from the bombing as you can is the smart thing to do, though there's always the danger of the rescue ships' being bombed, torpedoed, or otherwise sunk. However, in the '40s, all sorts of people were willing to take the risk, and a lot of children from a lot of places were sent to a lot of other places. Often, it was far away from home to places where they didn't fit in, even to the extent of not speaking the language. And it's true that those children were therefore no longer in danger from bombs. However, there are all kinds of dangers for children, and not all scars are physical. And not all homes away from war are benign or even positive. Eero Lahti (Topi Majaniemi) is living a happy, quiet life in Finland. However, what is referred to throughout the picture as "the Russkies" are invading. His father goes away to fight in the war and is killed, and his mother, Kirsti (Marjaana Maijala), along with tens of thousands of other Finns, decides to send Eero away to the relative safety of Sweden. Of course, the people taking in children mostly want babies; babies are always the first ones taken. And pretty girls. And surly boys like Eero are the last to go. He ends up on a farm in the middle of nowhere with Hjalmar Jönsson (Michael Nyqvist) and his wife, Signe (Maria Lindqvist), who also want a girl. Because they want to replace their own lost daughter. Eero doesn't want to be there, and Signe doesn't want him there. Hjalmar likes the boy, but Signe finds it hard to connect with him. Meanwhile, in Finland, Kirsti has begun a relationship with a German officer and is starting to consider giving Eero to the Jönssons and going back to Germany with him. Bad enough for British children send to other parts of the UK. Worse for British children sent to the United States. But poor Eero not only doesn't speak the language, he doesn't speak a language from the same language family. There are Swedes who speak Finnish, but the Jönssons aren't among them. His mother tells him to think of it as a vacation to get him on the boat, but thinking of it as a vacation isn't a good attitude for the farm. If the Jönssons are going to keep him, they are going to get work out of him. That's simply how farms work. Eero feels unwanted, and for part of the movie, that's true as far as Signe is concerned. But even if she wanted him desperately, how would she tell him? She is reduced to trying to read words out of a phrase book so unprepared for their life that it doesn't even have "geese" in it, and his job is to feed them. At that, Eero is used to being in a forest and has now moved to rolling hills. I think his father had been some sort of woodsman. I think I missed a few nuances because of the subtitling. It didn't make clear when the dialogue was in Swedish and when it was in Finnish, and I think there were some places where that's important. Now, they are very different languages, to the point that I didn't actually need the subtitles for some of the lines in Swedish, but I wasn't always able to be sure when they were spoken, because--and I think this was a universal human thing--languages I don't speak tend to end up almost as a blur of indistinct syllables. I wasn't hearing every word, just a voice making sounds. For most of the movie, Eero is probably speaking Finnish while everyone around him is speaking Swedish, but the subtitles don't make clear when that stops being true. It's an important moment in the boy's life, of course, but it's a moment that goes completely unnoticed if you aren't able to catch the difference in languages. Obviously, the original Swedish and Finnish audiences would know, but English-speaking ones do not. The film is bracketed by a grown Eero (Esko Salminen) talking to his mother (now Aino-Maija Tikkanen) about the issues he developed in those days. Everyone involved thought the decisions they made for Eero were for the best. His mother could not bear to care for him alone after the death of his father and thought, given the bombings at the time, that Sweden--officially neutral during the war--was the safest place for him. The Jönssons thought they would be providing a safe home for a forlorn child--and then they came to know and love a lonely little boy. It is a matter of some debate whether anyone's ultimate decision was really the best, and certainly it's true that somebody should have told him what was going on, but the goal was to keep him safe. A lot of children came out of the war at lot worse off than Eero did. After all, he still had a mother to take him back at the end and two people in Sweden willing to keep him, and that's three more people than a lot of children had. Still do, come to that.
Edith Nelson
½
What a heart-wrenching, tear-jerking movie!! But very well-made, and superb acting from all the actors involved. The movie revolves around a broken Finnish family during WWII, and the losses they had to endure. It details the complexities of human relationships and the insecurities and abandonment issues that the little boy Eero unfortunately had to face at a very young age. Cinematography was excellent as well.
Julia C
Äideistä parhain (Den Bästa av mödrar) (Mother of Mine) Quotes
There are no approved quotes yet for this movie.
Discussion Forum
Discuss Äideistä parhain (Den Bästa av mödrar) (Mother of Mine) on our Movie forum!