Motor Psycho
(1965)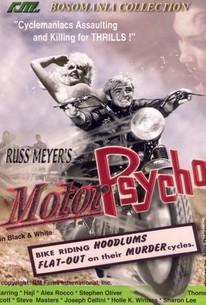 AUDIENCE SCORE
Critic Consensus: No consensus yet.
Movie Info
This exploitation film delivers the typically sadistic and fast-paced action expected from cult director Russ Meyer. Alex Rocco stars as veterinarian Corey Maddox, whose wife is raped by a motorcycle gang. The three hoods are led by Brahmin (Stephen Oliver), who was a Section 8 in Vietnam. They kill an old man and terrorize his wife Ruby (Haji) until she gets away and joins up with Maddox. Together, the two of them hunt down the gang. Brahmin shoots one of them himself, Ruby knifes another, and Maddox blows Brahmin to pieces with dynamite during a standoff at an abandoned mine. The rape scenes are brutal, though not explicit, and Meyer (who appears briefly as the local sheriff) leavens the film with enough campy humor to make it inoffensive. It would have been odious in other hands, but Meyer is somehow able to present scenes in the worst possible taste and still leave viewers smiling. He made better films than this one, but it is still superior to most similar efforts of the time. Coleman Francis and George Costello also appear.
Rating:
R
Genre:
, , ,
Directed By:
Written By:
In Theaters:
Runtime:
Studio:
Eve Productions
Critic Reviews for Motor Psycho
There are no critic reviews yet for Motor Psycho. Keep checking Rotten Tomatoes for updates!
Audience Reviews for Motor Psycho
I can't believe how underrated this is amongst Meyer's work. First of all, it features my favorite RM Actress of all of them, Haji, in a starring role. And she is brilliant as the tough, street-smart, recently widowed, shot in the head but still breathing, sexy yet elegant, Cajun queen, Ruby Bonner. Second, it's Alex Rocco's first film and he makes for a great protagonist, maintaining a certain edge and personality to him, while perfectly fitting in amongst the typical square jawed male population of the Meyer world. Third, the soundtrack is killer. Easily one of Meyer's best in more ways than one. Not only are the tunes kickass, but when one of them does sort of start to wear out a bit, Meyer freely acknowledges and makes fun of this by literally blowing the song away. Fourth, Meyer's cameo in this is definitely the best and longest of any of his films. He plays a character who one must assume is the polar opposite of Meyer himself; an asshole, womanizing, shit-brain sherif. Fifth, all the classic Meyer everything. Snake bites. Double entendres. Speed. Sex. Violence. Dynamite. Brilliantly out of place war references. Car chases. Absurdly large breasted women. Groovy dancing. Old, horny men. The great outdoors. Oddball gas station attendants, etc... Sixth, the photography in this one is gorgeous. Again, easily some of Meyer's best work in that area as well. Very cool shoots. Beautiful black and white. Desert landscapes. It's amazing. Perhaps this film is overshadowed by Faster Pussycat, but it hardly deserves to be. If anything it's a contender for the top of any Meyer fan's list. Yeah, maybe it doesn't have all of the explicit sexuality of his later work, but sometimes I think he's at his best when he doesn't have constant nudity to fall back on. There's some fantastic dialogue in here that is perfectly delicious.
Aaron Wittwer
bizarre and fascinating to watch although it has a weak plot and poor production values; would probably only interest obscure/cult film fans.
Jonathan H
Often overshadowed by "Faster Pussycat, Kill Kill" (made in the same year), this film has far less camp and more grit... whilst keeping all of the androgyny, as well as better directorial work. Overall, it is a slightly better film for it... it just isn't as gaudy or entertaining. It's depiction of violence, without as much humor, makes "Motor Psycho" more shocking and memorable than it's sister film. A neat piece of trivia: this is the first depiction of a post-traumatic-stress addled Vietnam Vet in film.
Daniel Hetteix
Super Reviewer
Motor Psycho Quotes
There are no approved quotes yet for this movie.
Discussion Forum
Discuss Motor Psycho on our Movie forum!