Mouchette
(1967)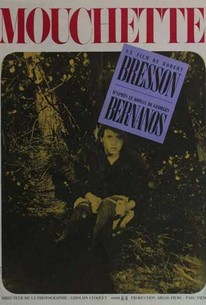 TOMATOMETER
AUDIENCE SCORE
Critic Consensus: Remarkable not only as a viewing experience, but as a showcase for Robert Bresson's tremendous skill, Mouchette underpins its grim narrative with devastating grace.
Movie Info
Robert Bresson directed this grim but moving story of a girl forced to grow up quickly due to the unfortunate circumstances which surround her. Mouchette (Nadine Nortier) is a fourteen year old girl living in a rural village in France; while it's the mid-1960's, in many respects her community looks as if it could still be World War II, or even the turn of the century, and a number of the men earn their living though poaching game. Mouchette's mother (Marie Cardinal) is slowly dying of an incurable illness, while her father (Paul Hebert) is a heavy drinker who shows little concern for his daughter, often using a hard shove as a parenting technique. Mouchette is an outcast at school, works odd jobs to help her family's meager circumstances, and has developed a thinly veiled contempt for most of those around her. One of the few places Mouchette feels at home is in the woods, and when a heavy storm breaks out while she's making her way home from school, she happens upon Arsene (Jean-Claude Guilbert), a poacher who allows her to stay in his cabin for the night; he forces himself upon her sexually, but after her initial resistance Mouchette seems to almost welcome his attention. When Mouchette is made party to an act of violence between Arsene and a rival gamekeeper, she's forced into a complicated lie, and after the death of her mother, her shabby existence becomes almost too much to bear. Based on a novel by Georges Bernanos, Mouchette was (like many of Robert Bresson's films) largely cast with non-professional actors, and shot using a deliberately simple, ascetic style; the result was honored with major awards at the Cannes Film Festival and Venice Film Festival, and was named Best Film of 1967 (along with Luis Bunuel's Belle de Jour) by the French Syndicate of Cinema Critics. ~ Mark Deming, Rovi
Critic Reviews for Mouchette
Audience Reviews for Mouchette
"Mouchette" is a tragic tale of an unappreciated adolescent girl. Call it the "Welcome to the Dollhouse" of its day, if you like. As usual, director Robert Bresson calls on amateur actors to execute his minimalist script. This does not come without a price -- star Nadine Nortier's wooden qualities go beyond her emotionally numbed character, and whenever she's asked to cry, it's painfully obvious that a stagehand has squirted her cheeks with water. Fake tears and all, Nortier's Mouchette is an impoverished, abused girl around 14 years old. Her ragged pigtails alone are enough to draw our pity. Her mother is dying, and her father is a heavy drinker who traffics liquor. She works odd jobs for trivial wages. Thanks to her bedridden mother, she also is forced to care for an infant sister. Her dirty appearance and hand-me-down clothes earn her ridicule at school, and even her teachers don't like her. Her only happy moment during the film is some quick fun with a carnival bumper car -- she mischievously bonds with a boy driving another car, only to be snubbed once they exit and their gap in social class becomes clear. The girl can't catch a break. However, the story resists digging for easy pathos. Mouchette is far from likable. She is sullen, suspicious and uncommunicative. She wreaks petty revenge on her classmates by throwing mud clumps at them. And she's often rude to people who show her kindness. Moral principles aren't a luxury that she can afford. She's just trying to get through another miserable day. A crisis occurs when she witnesses a backwoods argument between a poacher and the local gamekeeper. The men are not only on opposite sides of the law but are courting the same woman. Mouchette is manipulated into supplying an alibi for a possible murder, and it's a safe bet that she'll regret being pushed into this dispute. "Mouchette" is a short feature that never wastes a beat. It does have plenty of stiff acting, as well as Bresson's dependable quirk of boosting incidental sound effects (poured liquid, crunching leaves, clinking bottles, especially footsteps) to maddening levels. Watching a Bresson film can be like listening to someone slurp his coffee. Luckily, the deft editing and cinematography are exquisite. Warning: Scenes with real-life hunting of rabbits and birds may offend sensitive viewers.
Eric Broome
Super Reviewer
½
the refined essence of tragedy. so understated and unsentimental that i can only compare it to buñuel's los olvidados
Stella Dallas
Super Reviewer
½
Isolation & desolation, people's cruelty & misjudges &.... , Well I can go on & on about this masterpiece's greatness but I don't think I can find the right words to describe it
Mouchette Quotes
There are no approved quotes yet for this movie.