La Moustache
(2005)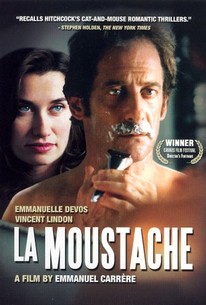 TOMATOMETER
AUDIENCE SCORE
Critic Consensus: Though the premise may be modest on the surface, Carrere uses a man and his mustache that may or may not exist as a springboard into psychological suspense and unsettling questions.
Movie Info
"What would you think if I shaved my moustache?" asks Marc (Vincent Lindon) of his wife, Agnès (Emmanuelle Devos), one fateful night as they prepare to visit friends for dinner. She's never seen him without it, but while she goes to do some last-minute shopping, he impulsively shaves the moustache off. Thus begins a tragic odyssey that leads Marc to question every relationship in his life, and even his own identity. Marc's journey into darkness begins when Agnès returns home. At first, he playfully tries to conceal what he's done. When he finally reveals his bare face to her, with a flourish, her reaction is...nonexistent. She baffles him by appearing not to notice the change. Confused, he says nothing, and they proceed with their plans for the evening. When the couple's friends Serge (Mathieu Amalric) and Nadia (Macha Polikarpova) also fail to make note of the change in Marc's appearance, he begins to get angry, believing that Agnès is playing an elaborate prank on him. In the car on the way home, he loses his temper, and it's her turn to be baffled. What moustache? How can she have noticed that he shaved his moustache when he's never had one? While Agnès begins to question her husband's sanity, Marc frantically searches for evidence of his former facial hair. Things only get worse for Marc, as no one at his job remembers him having a moustache either, and before long, he discovers that there are other details of his life that only he remembers. The Moustache marks the directorial debut of Emmanuel Carrère, who adapted his own novel with Jérôme Beaujour (She's One of Us). The film was shown as part of The Film Society of Lincoln Center's 2006 Rendez-Vous with French Cinema. ~ Josh Ralske, Rovi
Critic Reviews for La Moustache
Audience Reviews for La Moustache
½
What a horrible thing to go through, I questioned if the character Marc was going through the beginning stages of alzheimer's disease because of his lack of memory that never synced up with his wife's. "You didn't even notice I shaved my moustache" "you have not had a moustache in the 15 years I have known you."
Greg Afilmlovingweirdofromcali
Super Reviewer
This proved to be a strange film that did not tip its hand for this viewer until the end. Marc (Vincent Lindon) shaves his mustache and sets off a sequence of events that leaves him, and this viewer, wondering whether he is going insane, the butt of an elaborate joke, or something more sinister. His wife, Agnes (Emmanuelle Devos), grows increasingly concerned, as it is her contention is that he has never had a mustache, while he believes that he has had it for ages. The back and forth dialog, and the increasing frustration that Marc experiences is what drives this film. It is dark comedy and French to the core. The two leads are excellent at portraying the conflicting emotions, and the supporting cast is strong. The scenery in and around Paris sets the mood and the director keeps a steady hand on the way the story is presented. Having had a mustache for many years only increased the pleasure that this film brought to this viewer as he could totally relate to the sense of bewilderment that Marc experienced.
Mark Abell
Super Reviewer
Pretty boring film, the idea is definitely unique in that the guy goes insane because he's seen himself one way while others have seen him another way for all of his life. So it's something different in a sense. But the execution of this film is horrible. The acting is solid most definitely but at the end of the movie you're left with a billion more questions than answers. It also doesn't help that the movie is boring most of the time. And like I said nothing in the movie is explained they just let you make your own conclusion and that's good in movies that actually give you something that might help you make a valid conclusion. In this movie nothing is given to you that might explain what happened and how it happened. Overall a huge disappointment in my eyes.
Jesse Ortega
Super Reviewer
La Moustache Quotes
There are no approved quotes yet for this movie.