Move Me
(2007)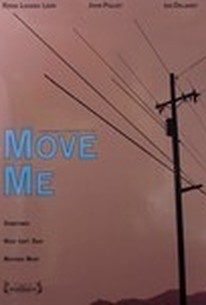 AUDIENCE SCORE
Critic Consensus: No consensus yet.
Movie Info
In writer-director Jonathan Pulley's 17-minute short Move Me, Graham is forced to say goodbye to his dad forever, and must figure out a way to bid the man farewell before the relationship is only a memory. Kevin Lucero Less and John Pulley co-star.
Rating:
NR
Genre:
,
Directed By:
Runtime:
Critic Reviews for Move Me
There are no critic reviews yet for Move Me. Keep checking Rotten Tomatoes for updates!
Audience Reviews for Move Me
The relationship we have with our father, when we are young, can more often than not decide the way we behave with others in the years of adulthood. We know that raising children is the central experience of life, the greatest source of self-awareness, the true fountain of pride and joy, the most eternal bond with a partner. We know that being a father is life's fullest expression of masculinity. So why did so many men forgo this for so long, and will the current crop of post-patriarchal fathers fare any better? Each generation of fathers, since the Industrial Revolution, has passed on less and less to his sons--not just less power but less wisdom. And less love. We finally reached a point where many fathers were largely irrelevant in the lives of their sons. The baby was thrown out with the bathwater, and the pater dismissed with the patriarchy. Everyone seemed to be floundering around not knowing what to do with men or with their problematic and disoriented masculinity. Life for most boys and for many grown men then is a frustrating search for the lost father who has not yet offered protection, provision, nurturing, modeling, or, especially, anointment. All those tough guys who want to scare the world into seeing them as men and who fill up the jails; all whose men who don't know how to be a man with a woman and who fill up the divorce courts; all those corporate raiders who want more in hopes that more will make them feel better; and all those masculopathic philanderers, contenders, and controllers--all of them are suffering from Father Hunger. It's a universal theme, and it is this truth of circumstance that makes Jonathan Pulley's debut film on the subject so powerfull and empathetic. The story of Move Me follows Graham, played wonderfully by Kevin Lucero Less, as he moves out of his apartment and hits the road toward a new life; we get the feeling out of state or possibly out of the country. He gives his goodbyes to a close friend, and moves on to more serious matters concerning his father. It is at this point in the narrative of the story, that we are introduced to Graham's father Herman, richly acted by the Director's own father Jon Pulley. What follows with the rest of the film, is arguably the most realistc father and son dynamic put to film, at least of what I have seen. Writer / Director Jonathan Pulley may be using true experiences from his own life, or it may possibly be a work of fiction, but what is evident is the skill this Director has with this subject. The performances are equally as striking, cast with unknowns, this piece brims with talent. Kevin Lucero Less, as the lead, gives a complex range of emotions that rival anything I have seen from the big names of Hollywood. The Director's father, Jon Pulley also meets this challenging subject head on. He gives a quiet performance, sad and lonely, which for me, made me think of my own father. What goes on between the father and son-and what does not go on between them--is surely the most important determinant of whether the boy will become a man capable of giving life to others or whether he will go through life ashamed and pulling back from exposure to intimacy with men, women, and children. Move Me is Sundance Film Festival Official Selection 2007
Allen Scarsborrow
Beautiful movie in every way. Superbly directed and photographed, and the acting by Kevin Lucero Less and John Pulley was astonishing.
Raymond Canfiled
Move Me Quotes
There are no approved quotes yet for this movie.
Discussion Forum
Discuss Move Me on our Movie forum!