Moving Violations
(1985)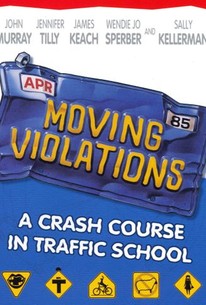 AUDIENCE SCORE
Critic Consensus: No consensus yet.
Movie Info
In this flat attempt at comedy by the director of the Police Academy series, Neal Israel, a brash Dana Cannon (John Murray, brother of Bill) lands in a crooked re-education school for delinquent drivers, run by Deputy Halik (James Keach, brother of Stacey). The objective is to lord it over the miscreant drivers sent to the school (wrongly given citations and tickets by cops out to fill a quota, according to opening sequences) and make some money in the bargain. Deputy Halik has already decided to flunk out anyone in his classes, with the objective of impounding their cars and then auctioning off the vehicles to the highest bidders. Dana, the irrepressible new student, manages to unite the other put-upon drivers at the school into a single, determined faction -- and trouble quickly brews.
Audience Reviews for Moving Violations
As 80s as it can get...but not in a bad way. A few laugh out loud moments with a corny storyline make make Moving Violations a must see for 80s comedy fans. Keep an eye out for a young Don Cheadle as a drive through burger attendant.
Jonathan Porras
½
It must have came as a disappointment to a lot of people in the 80's when someone said that you just can't release two "Police Academy" movies in the same year. So, some genius studio head did the next best thing and greenlit "Moving Violations", pretty much a carbon copy of the long running law enforcement franchise. There are some laughs here, and I was surprised by how much I enjoyed the first half of the picture. It's prime 80's dumb fun, and I relished the film's complete lack of political correctness and ridiculous casting. Name another movie that would have been better suited for the film debut of Wendy's pitchman Clara Peller. And then there's star John Murray, who is obviously (painfully so) the brother of multi-talented Bill. He's not without some charm of his own, and he is quite liable throughout most of this. The problem is that he looks and sounds so much like his more famous relative that he never really gets the chance to make a name for himself. I think that, combined with the fact that this was a pretty forgettable debut feature, ensured that he would never get cast in another film. He even steals Bill's short, glib and sarcastic comic style. The marginal fun that caught me off guard in the first half is short-lived, however, and the dumb fun I so enjoyed gives way to just plain dumb. The plot, if you're so bold to call it that, is ridiculous and the romance between Murray and Jennifer Tilly is completely unconvincing. The "lovable losers" start to wear out their welcome. "Moving Violations" makes a game attempt at being so bad that it's actually good. When the dust settles, however, it's just mediocre.
Timothy Sanders
An enjoyable 80s comedy starring the brother of Bill Murray and the brother of Stacy Keach. You also got a young Jennifer Tilly, two dudes from The Burning, and Marty's sister from Back to the Future. Then, for toppers they throw in Fred Willard. If your into curios and obscure (and not so obscure) comedy character actors, this is the one for you. A niche market to say the least, but still a fun watch.
Patrick Dolan
Super Reviewer
Moving Violations Quotes
There are no approved quotes yet for this movie.
Discussion Forum
Discuss Moving Violations on our Movie forum!