Mr. Hell
(2005)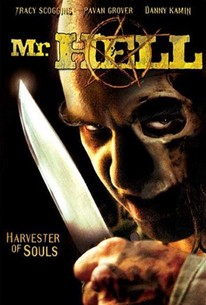 AUDIENCE SCORE
Critic Consensus: No consensus yet.
Movie Info
Years after succumbing to the corrosive effects of toxic industrial acid in a subterranean chase turned deadly, a brutal serial killer returns from the grave to spread mayhem and death in director Rob McKinnon's infernal frightener. As a young child, the trauma that Tyler experienced after discovering her father's lifeless body was unimaginable. His eyes removed by the crazed killer known as Mr. Hell, Dr. Karl Matthews had been working on a high-tech series of top-secret biological weapons when he was brutally slain by the rampaging psychopath. Though his young daughter would bravely give chase to the killer, the frenzied pursuit came to a bloody end when a load of deadly toxic acid instantly dissolved the madman. Fourteen years later, Tyler is all grown up and working at the very same lab where her father met his grisly fate. As the lab prepares to close its doors forever, a pair of incompetent waste workers bungles the removal of the toxic elements and inadvertently re-animates the vengeful Mr. Hell. Add to the chaos a group of mercenaries who are determined to make a tidy profit by breaking into the lab and stealing a vial of deadly bacterium for sale to the highest-bidding terrorist, and the stage is set for a blood-soaked night of horror where the doors are locked down and the screams can be heard for miles.
Rating:
R
Genre:
Directed By:
Written By:
On DVD:
Runtime:
Studio:
Maverick Entertainment
Critic Reviews for Mr. Hell
There are no critic reviews yet for Mr. Hell. Keep checking Rotten Tomatoes for updates!
Audience Reviews for Mr. Hell
[center][font=Century Gothic][size=3]I don't know why, but I have this great knack for picking up total crap horror movies. Now sometimes that can be good. Some movies are so craptacular that you can't help but laugh and have a good time watching it anyway. While others are so down right a total stinking huge pile of crap you just sit there watching dumb founded at the stench of the movie. Well the most recent two I watched one was a total heaping pile of crap and the other while it stunk, was not too bad and was passable. [/size][/font] [/center] [center] [img]http://images.rottentomatoes.com/images/movie/coverv/90/260490.jpg[/img] [/center] [center][font=Century Gothic][size=3]The first we watched was Mr. Hell. The cover was interesting and the back read well so I figured why not. I should smack myself cause I should have smelled the crap stench a mile away. How awful can a movie be? Pretty darn awful Mr. Hell is susposedly an ubber evil bad guy that has made a deal with the devil himself. He kills people and takes their eyes. The eyes are the windows to the souls and for each soul he takes he lives another life. Well Harry Eugene Loveless died at the hands of young Tyler who in her attempts to get away from him caused a spray of acid to wash Mr. Hell away. Mr. Hell was trapped in the waste tanks and when the tanks get flushed some 14 years later he is released again to start his killing spree again. Just so happens that Tyler works there as an adult now and has to figure out a way to kill Mr. Hell to stop his eye stealing killing spree. [/size][/font] [/center] [center][font=Century Gothic][size=3]I'm not sure what else to say except that this movie sucked! The acting was awful, the special effects crappy. And the plot while if it had been just about Mr. Hell and not tried to tie in another sub story. Mr. Hell, well he looked more like an escaped patient from a mental ward instead of a serial killer. Give him his meds and send him back to his padded cell. [u][b]THE NUN[/b][/u] [/size][/font] [/center] [center][font=Century Gothic][size=3]The next in our line of horror crap was The Nun. Now this movie actually wasn't too bad. Now I say not too bad. Not saying it's good. But it could serve as a good rainy day watch. [/size][/font] [/center] [center][font=Century Gothic][size=3]The Nun is about a bunch of boarding school girls that are terrorized by a brutal and ruthless nun. The Nun crosses the line when she tries to give some "holy" punishment to a pregnant schoolgirl. The girls have had enough and end up drowning the nun in a bathtub. Now you would think the nun was dead. Nope your wrong. She comes back for some "holy" punishment for the now adults that killed her. All the women have holy names and she is taking each one and giving them the "holy" death they received in the bible. One victims daughter Eve see the nun in action. What she doesn't know is why can she see this ghostly killer and no one else can? She travels to Spain to visit the old school where all this started. Will she stop the ghostly nun before she kills everyone? [/size][/font] [/center] [center][font=Century Gothic][size=3]]While this wasn't a great movie it was ok. The acting was decent, the plot ok. The death scenes were passable. Some were pretty gruesome. While others were ehhh ok. Worth a rainy weekend watch. Or worthy to be thrown in on a horror movie marathon night.[/size][/font][/center]
Kat G
Mr. Hell Quotes
There are no approved quotes yet for this movie.
Discussion Forum
Discuss Mr. Hell on our Movie forum!