Mr. Hulot's Holiday (Les Vacances de Monsieur Hulot)
(1954)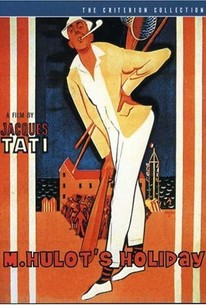 Mr. Hulot's Holiday (Les Vacances de Monsieur Hulot) Photos
Movie Info
Already familiar to many, especially following his acclaimed directorial debut Jour De Fete, Jacques Tati came into his own and reached new levels of popularity with 1953's Les Vacances De Monsieur Hulot. The first film to introduce his much-loved alter ego Monsieur Hulot, it sets the pattern for future appearances of the character, throwing the bumbling hero unwittingly into the middle of the action and letting the ensuing mishaps provoke humor ranging from gentle observations to fairly biting satire. The setting this time is a stuffy resort community fond of the peace and quiet that Hulot interrupts without fail. Nearly dialogue-free and driven more by episode than plot (like all of the Hulot films), standout set pieces include a disrupted funeral, an interrupted game of cards, and -- one of Tati's signature bits -- a game of tennis played with rules that can politely be called unconventional. ~ Keith Phipps, Rovi
News & Interviews for Mr. Hulot's Holiday (Les Vacances de Monsieur Hulot)
Critic Reviews for Mr. Hulot's Holiday (Les Vacances de Monsieur Hulot)
Audience Reviews for Mr. Hulot's Holiday (Les Vacances de Monsieur Hulot)
Slapstick at it's finest. Never has comedy looked more beautiful than in the hands of the great Jaques Tati.
Graham Jones
Super Reviewer
Writer, director and actor Jacques Tati invites us to glimpse into his strange little world in "Mr. Hulot's Holiday", a film that paved the way for comedians like Mr. Bean's Rowan Atkinson. Mr. Hulot's Holiday is slightly less absurdist than later Tati fare like "Mon Oncle", but there are times when the film teeters just on the brink of the unreal, and could pass for some sort of fever dream. The plot, if it exists at all, is quite simple: Mr. Hulot goes to a summer beach resort and mingles with the other tourists. Naturally, the film winds up being a series of vignettes sharing only the beach resort and Tati himself as the common denominators. Mr. Hulot could be described as "blissfully unaware" by his friends and admirers (which includes the young blonde woman Martine, who's completely bored by the intellectuals following her around and utterly charmed by Hulot's bizarre antics) and a "menace to society" by those he annoys (and there are plenty of those running around the resort as well). Tati gets the little things right, he shows an eye for details we all know subconsciously but rarely acknowledge in our day to day lives. It's in the way Tati is able to capture the distant memories of some collective past. Hulot's holiday is over all too quickly.
Devon Bott
Super Reviewer
a trip seaside's just the ticket, and this'll call for attention to detail on your part, you'll have to actually watch it (just like they did in the old days!), cause there's nearly no dialogue to spell out for you what's happening. And what is happening? nothing. just a trip seaside. it's just the ticket!
Kevin M. Williams
Super Reviewer
Mr. Hulot's Holiday (Les Vacances de Monsieur Hulot) Quotes
There are no approved quotes yet for this movie.