Mr. Jones
(1993)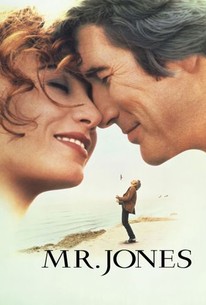 Movie Info
The title character, a manic depressive prone to very irrational behavior (Richard Gere), is hospitalized for treatment. While there, the psychiatrist responsible for his rehabilitation (Lena Olin) becomes involved with him and cannot stand to allow his check-out.
Audience Reviews for Mr. Jones
½
If you know anyone Bi-Polar, this is a Must see.When he's(Richard Gere) up, he spreads Joy & is so Charming & Irresistible, When he's down, he takes Prisoners.Lena Olin plays his Psychiatrist , Dr Libbie Bowen,who knows better, but falls in love with him anyway.This Film packs a punch to the heart, I saw it years ago, I've never forgotten the impact it left on me.I find myself recommending this Film all the time.
Marilee Aschwanden
½
Interesting story and a challenging role for Gere. Not too beleiveable but since it's Gere, it is worth seeing. Watching him act is a good reason to watch anything he is in.
Terry C
Here's how bad this movie is: I walked out of a $1 theater 30 minutes into the movie knowing it was the worst $1 I'd ever spend. Probably THE WORST MOVIE EVER MADE.
Ross Thede
Discussion Forum
Discuss Mr. Jones on our Movie forum!