Mr. Jones
(2014)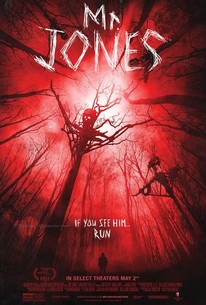 Movie Info
Scott (Jon Foster of STAY ALIVE) and Penny (Sarah Jones of "Sons Of Anarchy") just moved to a remote cabin to escape the pressures of the world and breathe new life into their art. But they'll soon discover they are not alone: an infamously reclusive artist - known only as 'Mr. Jones' - lives nearby. He doesn't like to be disturbed, and only comes out at night when he drags his strange, sinister sculptures deep into the woods. When Scott and Penny's curiosity leads them too close for Mr. Jones' comfort, he plunges the young couple into a nightmare world of mayhem, madness and mind-bending terror. (c) Anchor Bay
Rating:
PG-13 (for terror, frightening images, a scene of sexuality and brief language)
Genre:
Directed By:
Written By:
In Theaters:
On DVD:
Runtime:
Studio:
News & Interviews for Mr. Jones
Critic Reviews for Mr. Jones
Audience Reviews for Mr. Jones
Had potential, but then just got too weird. The filming was annoying and the acting was ok, but the characters were just plain stupid. Could have been better if not filmed like a homemade found footage movie. If filmed like a regular movie it probably would have been a bit better. Editing was horrible.
Mark Tanaka
½
The production value of Mr. Jones was some of the best I've seen. The camerawork, lighting, sound editing, atmosphere and scarecrows (made by the talented Pumpkinrot) were all phenomenal. I truly applaud all of those who were a part in creating such a stunning and masterpiece production value. All of these things could have made Mr. Jones a very high quality movie if it wasn't for one large mistake: the thin and inadequate plot. The last 30 minutes or so seemed to completely disregard the structure of the hour before it and the audience gets slapped in the face with overly shaky camera movements and excessive dissolves in the editing, making it an uneasy and irritating viewing experience as well as an irritating change of pace for a movie that was SO good for the first hour/hour 15 minutes. I like the first part of the movie so much in fact that I refuse to go lower than 3 and a half stars for this movie but if the whole first 2/3 of the movie was at the same quality as the last 1/3, then I would have undoubtably voted this movie one and a half stars. Watch this movie for the brilliant technical achievements, mainly the stunning cinematography which will leave a lasting impression on me but do not watch Mr. Jones if you get irritated by bad endings because this one has one and it's a real shame coming from a movie that started off so strong
Mike Leddy
Mr. Jones starts off strong and loses its purpose in an extended climax that sums up the events as a strange twist. The suspense built by the Jones house and sculptures are impressive but the trappings of being a found footage movie keeps this from being strong. I liked it for the most part.
Rodney Eckrich
Discussion Forum
Discuss Mr. Jones on our Movie forum!