Mr. Pip
(2014)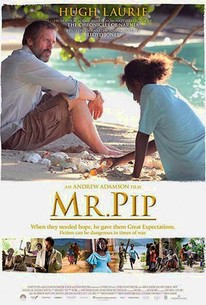 Movie Info
Based on the best-selling novel, Mr. Pip is a film by Andrew Adamson (Chronicles of Narnia, Shrek) and stars Hugh Laurie ("House M.D.", Monsters Vs. Aliens) as Mr. Watts, the last Englishman remaining in a tropical village in Bougainville during its civil war in the 1990s. He begins to teach the local children by reading them Great Expectations, by Charles Dickens. Matilda, an imaginative young girl (played by newcomer Xzannjah), is transported into the story of the novel, believing that Dickens' character Pip is her friend. Matilda's "Pip" world is an extraordinary fusion of Dickens' Victorian London with the environment and people she knows on the island. This wildly imaginative hybrid place is set alongside the film's unflinching portrayal of the horrors of war. Matilda's passion for storytelling brings terror to the village when Pip's identity is misunderstood by the invading army. Ultimately, her courage and imagination must sustain her if she is to survive. (C) Freestyle
Rating:
PG-13 (for disturbing situations involving violence and threat, and for some mature thematic material and brief language)
Genre:
Directed By:
Written By:
In Theaters:
On DVD:
Runtime:
Studio:
News & Interviews for Mr. Pip
Critic Reviews for Mr. Pip
Audience Reviews for Mr. Pip
It may eventually find a home in classrooms, much like Great Expectations before it. However, I don't expect it to invigorate or inspire kids as Mr. Dickens' work regularly does.
Lee Mayo
½
Mr. Pip wants to be a better film than it actually ever is and this is disappointing because it had a chance to offer an audience a glimpse of life in a section of the world few know much about. Taking place on Bougainville Island in Papua New Guinea in 1990, it is the story of the last white man on the island who inspired his students with the writings of Charles Dickens and his interpretation/reading of 'Great Expectations' whose main character is known as Pip. During the second outbreak of civil war on the island within a fifty-year span, the teacher, Mr. Watts (Hugh Laurie - 'House') finds himself threatened by some militants who don't like the inspirational readings he recites to his class. One of his students, Matilda (Xzannjah Matsi) takes his readings to heart and becomes enthralled with the world of Dickens and imagines herself in some of his writings. The story is mostly a sad one as the history of the island has also been pretty sad (it survived a decade cut off from the rest of the world) but it is a cinematic display of the power of story and what imagination can do in a time of war -- having both positive and negative consequences. There is good and bad here but the film itself isn't ever as inspiring as the writings of Dickens as most of this is rather forgettable. It has generated interest in myself of the history of Bougainville so that in itself is a good thing; but it'll most likely make the actual history of the place much more interesting than this story.
Thomas Williams