Mr. Wong, Detective
(1938)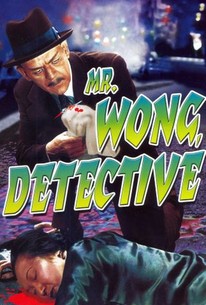 AUDIENCE SCORE
Critic Consensus: No consensus yet.
Mr. Wong, Detective Photos
Movie Info
The first of six Mr. Wong whodunits, Mr. Wong Detective presented Boris Karloff as pulp writer Hugh Wiley's Oxford-educated Oriental sleuth. Wong is visited by Simon Dayton (John Hamilton), an industrialist fearing for his life. Dayton and his partners Meisle (William Gould) and Wilk (Hooper Atchley) have been selling a poison gas invented by Roemer (John St. Polis), who, feeling cheated out of the deal, shows up in Dayton's office waving a gun. Minutes later, Dayton is found murdered by his secretary, Myra Ross (Maxine Jennings). Police Captain Sam Street (Grant Withers), Myra's boyfriend, immediately puts Roemer under arrest. Wong is not convinced of the man's guilt, especially after discovering a broken piece of glass near the body. During the ongoing investigation, the two remaining partners are also slain, but who done it? Are the killers foreign-accented Baron Anton Mohl (Lucien Prival) and his beautiful Brooklyn-born associate who calls herself Countess Dubois (Evelyn Brent)? Or did Roemer do the dirty deed? Could the dead man's nosy office manager (Wilbur Mack) have committed the crime and does Mrs. Roemer (Grace Wood) know more than she is telling? As Mr. Wong discovers, the answer is to be found in the origin and purpose of the mysterious pieces of glass found near each victim.
Rating:
NR
Genre:
, ,
Directed By:
Written By:
In Theaters:
On DVD:
Runtime:
Studio:
American Pop Classics
Critic Reviews for Mr. Wong, Detective
There are no critic reviews yet for Mr. Wong, Detective. Keep checking Rotten Tomatoes for updates!
Audience Reviews for Mr. Wong, Detective
½
Sometimes we witness things without being aware of their importance. When a potential client and two other associates are killed Mr. Wong springs into an investigation that happens to be lead by a naive detective. As Mr. Wong operates, the detective learns some tips and tricks about observation, motives, and criminology. Can the two men work well enough together to capture the killer? "You can be very clever when you're not careless." William Nigh, director of The Soul of a Man, Mr. Wu, Monte Carlo Nights, The Mysterious Mr. Wong, Dizzy Dames, Streets of New York, and Mutiny in the Big House, delivers Mr. Wong Detective. The storyline for this picture is fun and contains a very entertaining character. Boris Karloff is stunning in the lead role and the cast also contains Grant Withers, Maxine Jennings, and Evelyn Brent. "Even Mr. Wong can be fooled." My wife and I are huge fans of Boris Karloff and have always loved him in these eccentric roles. He delivers an interesting character that is both clever and funny. The movie kind of feels like a twist between Batman and Sherlock Holmes. Ultimately, this is a worthwhile picture if you're a fan of the mystery genre. Grade: B-
Kevin Robbins
Lets See Boris Karloff as an Asian Detective, humm, no I liked him better in his horror roles, maybe its me. But this is coming from a Native American who grew up watching white European men play the part of most American Indians in most westerns prior to 1980. The least you could have done was glue his eyes back a little more. It was funny to see how Mr. Wong held his smoke, more like a German in war movies, were we stereo type when these films were made??? If you get it in a group I say go for it but as a single, naw stay away from it.
Bruce Bruce
Super Reviewer
When business magnate Simon Dayton is found dead inside his locked office moments after police detective Sam Street (Withers) saw him standing at the window, reknowned private James Lee Wong (Karloff) joins forces with the homicide squad to interpert the only clues found at the scene--tiny fragments of delicate glass. When Dayton's business partners start dying under equally mysterious circumstances, and sinister agents of foreign powers start appearing in the shadows, Wong and Street have to race against time to prevent more murders, including, possibly, their own. "Mr. Wong, Detective" is a fast-paced, well-scripted complex mystery with lots of twists, turns, and misdirections. The array of suspects and the way suspicion moves on and off them, the way motives come into focus and blur again, the clever way the murder weapon is triggered, and the way Wong ultimately unmasks the very clever murderer, all add up to a mystery movie that deserves more attention than it gets. Another element that adds to the film's quality is the acting. Boris Karloff is excellent as Wong, playing a more subdued and refined character than in just about any other role he played before or after, with Wong's sarcastic, stereortypical "oriental politeness" in the face of the bad guys adding flavor to the character and comedy to the film. Grant Withers as Street is likewise excellent in his part, shining particularly brightly in the scenes with Maxine Jennings, who brings effective comic relief to the picture as his feisty girlfriend, Myra. The supporting cast and co-stars also all turn in top-quality performances. "Mr. Wong, Detective" is a film well worth the time a fan of 1930s mysteries should devote to watching it. It's a great kick-off for an excellent series. Mr. Wong, Detective Starring: Boris Karloff, Grant Withers, John St. Polis, Maxine Jennings, Lucien Prival, and Evelyn Brent Director: William Nigh
Steve Miller
Mr. Wong, Detective Quotes
There are no approved quotes yet for this movie.