Mr. Wong in Chinatown
(1939)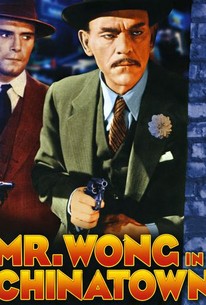 AUDIENCE SCORE
Critic Consensus: No consensus yet.
Mr. Wong in Chinatown Photos
Movie Info
A mysterious visitor is found murdered in Mr. Wong's study in this, the third of Monogram's low-budget thrillers, featuring Hugh Wiley's Chinese detective. A startled Wong (Boris Karloff) learns from enterprising girl reporter Bobby Logan (Marjorie Reynolds) that the murder victim is Princess Lin Hwa (Lotus Long), in San Francisco to buy airplanes for her brother's army. Both the princess' traveling companion (Bessie Loo) and a mysterious dwarf (Angelo Rossitto) become victims of a mystery killer, who uses an ancient Chinese dart as his weapon of choice. The trail leads to a steamer in the San Francisco harbor, whose captain, Jalme (William Royle), is highly suspicious. Also among the would-be murderers are a phony airplane manufacturer (Peter George Lynn) and a local banker (Huntly Gordon). Although kidnapped by Jalme, Mr. Wong manages to unmask the real culprit.
Critic Reviews for Mr. Wong in Chinatown
All Critics (1) | Fresh (1) | Rotten (0)
It offers an exciting climax and a wonderfully droll comical performance by Karloff, and is one of the better films in the low-budget B-film series.

Ozus' World Movie Reviews
Audience Reviews for Mr. Wong in Chinatown
There's been a murder in my house. A young lady seeking Mr. Wong's help is murdered in his own house. Mr. Wong will need to uncover why she needed his aid and who would want her dead. He is especially ambitious to uncover the plot since the killer was bold enough to sneak into his house to kill the lady. "Do you know something that I don't know?" "That wouldn't have to be much." William Nigh, director of Where Are Your Children; Mr. Wong, Detective; The Mystery of Mr. Wong; Mutiny in the Big House; The 13th Man; and Dizzy Dames, delivers Mr. Wong in Chinatown. The storyline for this picture is fairly clever and reminded me of a Sherlock Holmes movie/book. The acting is marvelous and the cast includes Boris Karloff, Marjorie Reynolds, Grant Withers, and George Lynn. "If you ever decide to quite the news paper game we could use brains like yours." Mr. Wong in Chinatown continues our effort to see all of the Mr. Wong pictures. We are huge Boris Karloff fans and his work in this series is smart and has an authentic feel (despite Mr. Karloff not being Asian ;). Overall, this is a very entertaining series that is definitely worth a viewing. Grade: B
Kevin Robbins
The famous private detective James Lee Wong (Karloff) takes it personally when a Chinese princess (Lotus Long in her second appearance as a murder victim in the series) is killed with a poison dart in his own home. He sets out to find her killer, with help from reporter Bobbie Logan (Reynolds), the latest bad-choice-of-dates for Wong's friend, Captain Street of Homicide (Withers). The trail leades to international arms-smugglers, shady bankers, con-artists, mute midgets, and tea-sipping Tong leaders, any of whom may have done in the princess. "Mr. Wong in Chinatown", the third "Mr. Wong" mystery, is a step down from the previous two entries in the series. The plot is not as engaging as the other films, Street's new love interest/Wong's co-detective is more annoying than charming or funny, and Street himself seems to have devolved from a by-the-book detective who simply lacks Wong's ability to see clues in a different light into a typical, incompetent comedy relief detective. That's too bad, because it makes the friendship between Wong and Street seem phony--why would someone as smart as Wong want to spend time with someone as dumb as Street appears to be in this film? There's also problems with the performances of every lead in the film. The unflappable Wong is almost too calm and detached throughout, and Karloff almost seems to be sleepwalking at times. Reynolds is gorgeous as always, but her character of Bobbie Logan is too shrill in most scenes. Withers does an okay job as Street, but the character is poorly written in this installment, and he really has very little to do. An unengaging plot, badly handled characters, and subpar performances from the film's leads add up to making this a weak entry in the "Mr. Wong" series. Things start to pick up in the final 15 minutes or so of the movie, and these manage to keep it on the high side of average... but only barely. It still remains a dissapointment when compared to the first two movies and the "Phantom of Chinatown" prequel. Mr. Wong in Chinatown Starring: Boris Karloff, Marjorie Reynolds, and Grant Withers Director: William Nigh
Steve Miller
Mr. Wong in Chinatown Quotes
There are no approved quotes yet for this movie.
Discussion Forum
Discuss Mr. Wong in Chinatown on our Movie forum!