Mister Wu
(1927)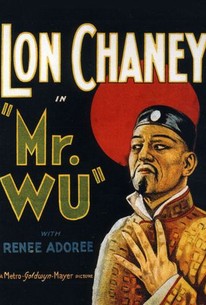 AUDIENCE SCORE
Critic Consensus: No consensus yet.
Movie Info
Previously filmed in England in 1919, the barnstorming Harry Maurice Vernon-Harold Owen play Mr.Wu re-emerged as a Lon Chaney Sr. vehicle in 1927. Chaney essays a dual role, as the titular Wu and Wu's honorable grandfather. After a lengthy prologue, it is established that Wu is a powerful, ruthless Chinese aristocrat who will stop at nothing to defend his daughter Nang Ping's (Renee Adoree) honor. When Nang Ping is seduced and abandoned by wealthy Briton Basil Gregory (Ralph Forbes), Wu begins plotting a horrible revenge, beginning with the killing of his own daughter (who goes to her fate with stoic resignation). He then captures Gregory's mother (Louise Dresser) and sister (Gertrude Olmstead), then forces Basil to watch as he prepares to subject the two women to unspeakable tortures. Wu is ultimately killed by Basil's mother, bringing this bizarre exercise in chinoiserie to a grim conclusion.
Critic Reviews for Mister Wu
Audience Reviews for Mister Wu
Naturally, all sorts of warning buzzers go off when you hear of a silent-era film with a white man portraying an Asian (even if the actor is the great Lon Chaney). And sure, there are some uncomfortable moments in "Mr. Wu." Lots of stereotypical talk about the "ancient ways" of these stuffy "Chinks," and there's one especially bad scene where a Chinese servant sees his white employer chasing a storm of papers swirling around a desk and is too dumb to understand that a nearby electric fan is the cause. Come on! Still, "Mr. Wu" is a stylish tale of tragic romance. Wu's beloved daughter Nang Ping (yes, the actress is also white) is about to enter an arranged marriage, but these traditional plans hit a snag when she encounters a posh Western lad by chance. Soon they're secretly nuzzling in the garden, pantomiming those silly, damp-eyed conversations that silent-movie lovers always have. When Wu hears of their scandalous courtship, he has to decide whether to punish his daughter as severely as his moral code demands. "Mr. Wu" is well-directed, and the costumes and furnishings of the noble Wu's estate are lovely. As a bonus for Chaney fans, the actor also portrays a withered grandfather during the opening scenes.
Eric Broome
Super Reviewer
Mister Wu Quotes
There are no approved quotes yet for this movie.
Discussion Forum
Discuss Mister Wu on our Movie forum!