Mrs. Munck
(1995)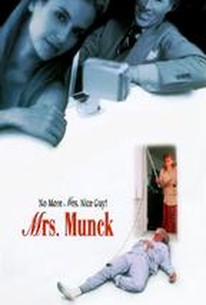 AUDIENCE SCORE
Critic Consensus: No consensus yet.
Movie Info
A patient widow finally exacts her revenge upon the much older man who deflowered her and impregnated her in this satirical psychodrama. Mrs. Rose Munck has just lost her husband and is now looking for a boarder. She chooses her crippled, curmudgeonly father-in-law, Patrick Leary -- the wealthiest man in the county. His family is pleased about the arrangement because Mrs. Munck is so sweet and charming. Little do they know that when she was a teen, she and Patrick, then a married man in his 40s, had been lovers and that she had borne a child that later died. For years, she has blamed Patrick for that child's death and now that he is her "guest," she has every intention of getting even. She tells others that the knives, and emotional abuse she inflicts on Leary are designed to help "heal" the crippled man and to coerce him out of his wheelchair. Meanwhile, the story occasionally flashes back to their younger days where she is seen as an innocent with a school-girl crush on the nasty older man. The flashbacks also reveal how the baby died.
Critic Reviews for Mrs. Munck
There are no critic reviews yet for Mrs. Munck. Keep checking Rotten Tomatoes for updates!
Audience Reviews for Mrs. Munck
Suspension of disbelief is often used to allow fantasy to be portrayed in a manner that we accept, allowing the plot to advance to a conclusion. It is required of all science fiction, fanatasy, and horror films, and often in comedy. However, there is a point where suspension disbelief fails, and that which we are to accept in order that the show be allowed to go on becomes burdensome, dragging the whole thing down. Such is the case with [i]Mrs. Munck. [/i]I wanted to like this film. In fact, I did...to a point. However, the inconsistencies diminished any enjoyment I could have really had, to say nothing of the fact that it played like a play instead of the film, with some of the dialogue delivered in that wooden, wordy manner that follows when a story moves from the stage to the screen. However, it was the glaring mistakes in the timeline of the film related to the obvious age of Ms. Ladd that caused the film to crumble for me. As was stated somewhere else, it was impossible to see Bruce Dern as being Diane Ladd's senior by 25 years. This, however is the tip of the iceberg. To start with, the age of the Mrs. Munck character has been stated (and I suppose this is taken from the novel) to have been a teenager when the couple first met. Considering she was going off to work, probably for the first time, we could say that she was 17 or 18. However, if I were to consider her initial age without reading anything beforehand, the case could have been made that she was an innocent 20-something. Her daughter, who is listed in the credits as a two-yead old, is probably closer to four, but saying that she is two means that the age of Mrs. Munck may be somewhere between 19-25 at the time. Then there is the cat, given to the little girl by character of O'Leery. She states that he is the same cat, and is now eighteen. All this adds up to make Mrs. Munck somewhere between 37 and 43. Yet, Ms. Ladd is clearly past 50 in this film, and was, in fact, 60 at the time of shooting. The way to have fixed this film would have been to use Laura Dern in the role of Mrs. Munck, but of course that would have been rather risque, considering the saucy sex scene between Mr. Dern and Kelly Preston, who played the younger role. Either the scene would have had to have been left out, or Ms. Preston still could have played the younger role with Ms. Dern in the elder. This might have been a bit odd and difficult for egos to handle, considering Ms. Preston is four years older than Ms. Dern. It would certainly have gotten past the taboo of a father and daughter being naked together on screen, however. Ms. Ladd should have stuck to the screenwriting and directing, and let a younger woman take the starring role.
Liam OSullivan
Mrs. Munck Quotes
There are no approved quotes yet for this movie.
Discussion Forum
Discuss Mrs. Munck on our Movie forum!