Mubangbi-dosi (Open City)
(2008)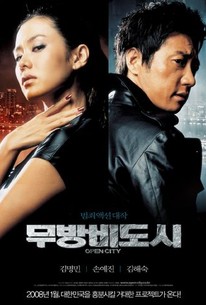 AUDIENCE SCORE
Critic Consensus: No consensus yet.
Movie Info
Open City follows the conflict played out between an internationally active, infamous, and insanely treacherous pickpocket organization and Korea's very own FBI--the WAIS, or Wide Area Investigation Squad.
Rating:
PG-13
Genre:
,
Directed By:
In Theaters:
Runtime:
Studio:
CJ Entertainment
Cast
Critic Reviews for Mubangbi-dosi (Open City)
There are no critic reviews yet for Mubangbi-dosi (Open City). Keep checking Rotten Tomatoes for updates!
Audience Reviews for Mubangbi-dosi (Open City)
½
A movie that gives us a unique look into the art of pick-pocketing and weaves some intricate stories filled with high tension and emotion. What I really enjoyed about this movies was its ability to vividly introduce each aspect of the story and knit together many connections. It gave me a bit of an epiphany on the story of crime in general. It is important to understand many sides of the story. This film did so with in an exclusive way and with much style. It was a bit long but was very enjoyable. Directed with style and flair.
Julian Bil
Baek Jang-mi and her gang of pickpockets move on the territories of other gangs to broaden their influence. The Korean WAIS (similar to our FBI) create a task force to stop them. The trouble is, one of the pickpockets is the mother of one of the agents... Too slow and too long, but Ye-jin Son is spectacular as Jang-mi, making it worth the watch.
Don Schick
South Korean melodrama rears its ugly head once more in a film that doesn't require it. It's not like this is much of a problem, because this movie didn't really have a lot of potential to begin with. I mean, the movie looks at a pickpocket gang and the cop's investigation into this gang, a gang that his mother used to be part of and her criminal lifestyle has led to their issues. Seriously, how interesting can that be? I suppose any movie can be interesting if the writing and acting is good enough. But that's not the case in this movie. The acting is decent enough, I guess, but I've seen much better. The problem I have with the acting is mainly directed at Ye-jin Son, who plays the villain, so to speak, in the film. The problem is the fact that she's simply trying way too hard to be this sexy, manipulative seductress. She steps on anybody she has to in order to get her way, she's cold and doesn't really care for anybody but herself. Good idea on paper, but Ye-jin just completely misses the mark on the role. Her performance felt completely forced and unnatural. Especially when the film, in the ending, tries to give you a reasoning for why Jang-mi ended up doing the things she did. It's really hard to feel sorry for a person who maintains a very lavish lifestyle by stealing from people who have worked hard for what they have. I'm not sure if the film's last flashback scene, that shows what happened to Jang-mi's mother, was them trying to make Jang-mi more sympathetic. But it didn't work, at all. On top of that, with Ye-jin's unnatural acting, this whole thing was a disaster. And that's not even getting into Dae-young's mommy issues, which is where the movie becomes absolutely unbearable with its terrible attempts to tell this tragic story of a mother who's trying to reconnect with her son that she abandoned, because of one of her imprisonments 20 years ago. The film sees the mother getting released after a 7 year stint in prison for being in Jang-mi's gang and going through horrible shit after horrible shit in order to create sympathy for her. Oh, and she also cries a lot when she's homeless, when she's being beat up by other homeless women, when she's being run down by her son for abandoning them, when her daughter suffers a seizure out of nowhere (and this happens for no real reason), when her son's fighting one of the members of her former gang, when she's about to die because of her diabetes, when Jang-mi goes to her new restaurant, when she's being interrogated by the police prior to her last imprisonment. In truth, this woman would cry if I just walked up and said hello to her as nicely as possible. Oh, and of course, let's not forget the sad score in the background in order to convince you even more that what's going on is tragic. It's just awful beyond belief. I'll never get tired of saying this, but this is not actual character development, it's just manipulation. And this movie doesn't really let up on it. Look at the last 15 minutes, when Dae-young is about to arrest her mother, due to Jang-mi's coercion to help her with one last job, and he gets into a fight with one of the gang members. You've never seen such a melodramatic scene. The mother sacrifices herself to save her son, all the while sad music plays in the background. It just has to be seen to be believed, the level of melodrama in these films is outstanding. These films aren't exactly subtle when it comes to the drama and that really sucks. Another thing is Dae-young's treatment of his mother. It's understandable that he'd be upset that she 'abandoned' them and they had to grow up without a mother. But does he really need to be such an asshole to her? It's not good or interesting character development. I just watched Wild Bill before this movie, and the movie sees a similar concept with a father coming back into his kids' lives after being gone for 8 years. And in that movie one of the sons, Dean, the oldest, played by the very talented Will Poulter, believably sells the frustration of being abandoned for 8 years and the fact that he's had to raise his little brother because of both of his dad's absence. He comes on a little strong, but he is never an unlikable asshole, because his frustration is definitely easy to relate to. In this film, Dae-young is an asshole for no apparent reason, constantly yelling at his mother and telling her to go away, even when it's clear she's trying to make up for what she did. Even Dean realized that his dad was, indeed, trying to do right by them. Dae-young is just a little bitch and because of that, he doesn't make for a very interesting or appealing lead either. He's definitely an unlikable asshole. So yea, I hated this film, as you could tell. It's just everything I hate about Korean films and then some. So, just don't watch this, please.
Jesse Ortega
Super Reviewer
Mubangbi-dosi (Open City) Quotes
There are no approved quotes yet for this movie.