Mugabe and the White African
(2010)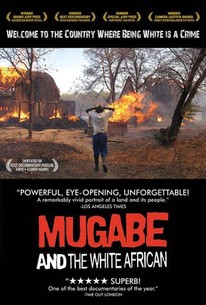 TOMATOMETER
AUDIENCE SCORE
Critic Consensus: As much legal thriller as objective documentary, this account of a farmer's battle with Zimbabwe's regime serves as a powerful and emotional attack upon President Mugabe.
Mugabe and the White African Videos
Mugabe and the White African Photos
Movie Info
Michael Campbell is one of a handful of white farmers still left in Zimbabwe since President Robert Mugabe began enforcing his controversial land seizure program, an initiative intended to reclaim white-owned land and redistribute it to poor black Zimbabweans. Since 2000, formerly thriving farms that employed thousands, now sit derelict while poverty and hunger are rife amongst the majority of the country's citizens; but 74-year-old Mike refuses to back down. Set against the backdrop of the tumultuous 2008 presidential election, 'Mugabe and the White African' follows Mike and son-in-law Ben Freeth's harrowing attempt to take Mugabe to an international court for racism and violation of their human rights. It is an unprecedented case, upon which rests not only Mike and his family's future, but also the future of millions of ordinary Zimbabweans who continue to suffer at the hands of one of the world's most infamous tyrants.
News & Interviews for Mugabe and the White African
Critic Reviews for Mugabe and the White African
Audience Reviews for Mugabe and the White African
A fantastic inside look at racial persecution from an unlikely point of view. Excellent dramaturgy and editing, one of the better documentaries I've seen.
Frank Herfjord
½
Defining African What country Mike Campbell lived in pretty much changed with the political winds of Africa. He was born in Klerksdorp, South Africa. He seems to have moved from there, though Wikipedia says his nationality was South Rhodesian the same year he was born, so I don't know what the deal is. But every other change in nationality in Mike Campbell's life was a change in the name of the country where he lived. His family came to farm in Africa at a time when people were really only just starting to come to farm in what would more than fifty years later become the United States. The only definition by which Campbell was not African was one based purely on the colour of his skin and the nationality of that long-ago ancestor. Everything which happened to him, for good or ill, had to do with that narrow definition. And it's true that some of the injustices because of it benefited him, but I do not think they outweigh the ones which did not. In 1980, Rhodesia officially became a separate country. Robert Mugabe came to power. And Mike Campbell bought 3000 acres, which he called Mount Carmel. No one seems to dispute that he was anything but a good steward to his land, employing 500 people and stocking his farm with wildlife. Then Mugabe decided to address the issue of wealth imbalance; laws were passed allowing the government to seize the farms of wealthy landowners and give the land to . . . well, in most cases, personal friends of Robert Mugabe's. And indeed, this was the case with Mount Carmel. Mike Campbell attempted to bring suit against the government. The Zimbabwean high court declared that, since the law didn't specify that the farms of white people would be the ones seized, the law clearly wasn't racist. Campbell took his suit to the South African Development Community Tribunal, pointing out that the law may not have mentioned skin colour, but the practical results were that the only people whose land was seized were white. Yes, the distribution of land in Africa is inequitable. Yes, it is probable that the reason Mike Campbell had the money to buy Mount Carmel is that his ancestors simply took land from the black people who lived on it. However, it is worth noting that Robert Mugabe speaks positively of Hitler, has made clear that he's perfectly happy with the idea of killing all the white people in Zimbabwe if that's what it takes to get rid of them. It's also worth noting that Mugabe's policies have largely destroyed the economy of his country, because the people to whom he gives land show no interest in actually wanting to take care of it or provide jobs for the people who worked there when the land was owned by white people. It's not that black people could not manage the farms just as well as people like Mike Campbell. It's that the people who have been given the seized property don't. And if the film doesn't ask the black Africans what they want, well, neither does Mugabe. And, yes, it would be a better film if some of the employees of people like Mike Campbell had been given their say. The film informs us at the beginning that those actually making it risked imprisonment if their cameras had been discovered. Probably most of Campbell's employees would have had reason to fear for their lives had it come to Mugabe's attention that they were speaking out against him and in favour of a white man. After all, Mike Campbell, his wife, and his son-in-law were abducted and beaten while they were waiting for the Tribunal to hear their case, and the family believes that Campbell, who died last year, died of complications from his beating. And of course, Campbell and his family had money and [i]could[/i] leave Zimbabwe if they so chose. This was not the case for his employees. The film includes footage of the man who intends to take Mount Carmel--who is filming right back, which is a bit curious, because it implies that he knows he is being filmed. The Tribunal is essentially no more. It ruled in Mike Campbell's favour, but that doesn't seem to have done any good in the long run. Zimbabwe declared that it didn't have to listen to the Tribunal's decision, because that implied that the Tribunal's laws were higher even than the Zimbabwean Constitution. The homesteads were destroyed; Mike Campbell, his family, and their employees lost everything. There are sanctions in place against Robert Mugabe and his government, but he is still in power for all that. It seems likely that only his death will end that--and he's older than Campbell but outlived him. Unemployment in Zimbabwe is at 80%; the men who take over those farms, which employed so many people, are not interested in doing what is right for the land and for their employees. For hundreds of years, Africa has been ruled by the shortsighted. It seems that the only thing which changed with independence for many of these countries was the skin colour of the dictators.
Edith Nelson
½
"Mugabe and the White African" is a documentary about Mike Campbell's fight to retain his commercial farm in Zimbabwe(ne Rhodesia) from being forcibly taken over by President Robert Mugabe, like those of other white farmers. And what Campbell goes through under threats of intimidation could definitely be thought of as a travesty. So, it is a shame that it is all presented with the subtlety of a tractor being dropped on your head. Mugabe is evil, we get it.(The documentary opens with stating that it had to be filmed under strict secrecy. Later there is a scene where Campbell is having a showdown with a government minister's son and they are both filming each other.) All that had to be done to establish this would be to show the beaten opposition candidates. What "Mugabe and the White African" also required was a wider perspective and I think part of the problem does come from the white farmers who have an air of paternalism about them when claiming their indespensability to the local economy, implying that they can do a much better job than any black farmers. And according to a BBC report in 2000, the white population which is 1% of Zimbabwe controlled more than 70% of the arable land. That along with Zimbabwe's extremely racist past allows Mugabe to so successfully play the race card.
Mugabe and the White African Quotes
There are no approved quotes yet for this movie.
Discussion Forum
Discuss Mugabe and the White African on our Movie forum!