Mule Skinner Blues
(2001)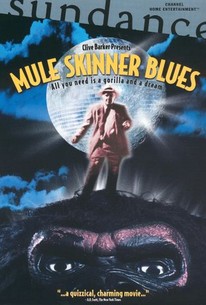 Mule Skinner Blues Photos
Movie Info
Set in Florida's beach community, Mule Skinner Blues chronicles a group of locals who crave self-expression in the midst of their Southern Gothic lifestyles. Chief among the figures is Beanie Andrew, a fifty-something former alcoholic who acts, sings, dances, writes, and lives in a trailer park outside Jacksonville and who finds work as an extra in a music video. He then presents Stephen with a series of home videos displaying his and his friends' talents. Most of them are out-of-work shrimpers, such as Steve Walker, a Vietnam veteran and troubadour; Ricky Lix, an ill-tempered blues guitarist; Miss Jeannie, a country singer who also has a penchant for yodeling; and Annabelle Lea, an art school grad and costume designer who keeps her departed bulldog's dead body in a backyard freezer. After the music video shoot, Stephen returns to Florida to find the group beginning work on an ambitious horror film called "Turnabout Is Fair Play," which has no completed script; still, the team tries to pull together to make the picture. The subject matter is very similar to Chris Smith's award-winning documentary American Movie, which also followed a struggling group of filmmakers through their production of a very low-budget genre piece.
Rating:
R
Genre:
, , ,
Directed By:
In Theaters:
On DVD:
Runtime:
Studio:
Critic Reviews for Mule Skinner Blues
Audience Reviews for Mule Skinner Blues
Mule-Skinner Blues (Stephen Earnhart, 2002) [originally posted 4Feb2002] I'm wondering who's written the reviews I've been reading, and whether they're plants from the production company. Or I would be if the reviews I've been reading weren't uniformly worse than the one I'm about to give this engaging, twisted little documentary. The film is relentlessly compared to Errol Morris' classic first film, Gates of Heaven. That's a reach, especially when there's another, far more obvious, basis of comparison sitting right in front of the face of any reviewer of documentaries on the planet: American Movie. You'd have to be braindead to have seen American Movie and not catch the similarities here: Mule-Skinner Blues is about a bunch of scary, dysfunctional trailer-park residents who are trying to scrape together the cash to make a no-budget indie short horror film. Sound familiar? Of course it does. Sound like Gates of Heaven? Uh... The main difference between Mule-Skinner Blues (the title, by the way, is from a Jimmie Vaughn song) and American Movie is that, despite Mark Borchardt being something of an obsessed lunatic, the viewer is always given Borchardt in the most sympathetic of lights, and it's hard not to root for the guy throughout American Movie, even if his finished film is, well, awful. Beany Anderson, the star of Mule-Skinner Blues, on the other hand, is presented in a light that it would be hard to call sympathetic in any way, shape, or form. The camera just kind of wanders along through the trailer park inhabited by Beany and his band of scary men, documenting life in a Jacksonville, FL trailer park in all its Deliverance-esque glory. This is where Mule-Skinner Blues and American Movie diverge (and, I suspect, it's also the reason so many reviewers seem to have faulted MSB); American Movie keeps its focus solidly on Borchardt and the making of Coven. The actors in Coven and the other players in Borchardt's life, save his best friend, are relegated to the background. The makers of American Movie seem, at times, almost as obsessed as Borchardt with Coven. The makers of Mule-Skinner Blues, on the other hand, seem to be so captivated with trailer park denizens that the making of Turnabout is Fair Play (or, as the title screen of the short film informs us, "Turnabout is Fairplay") takes a back seat to those involved in its making for about half the film. Turnabout becomes the frame; it's important in introducing us to the characters, and it's important at the end, when Turnabout makes its premiere at a small Jacksonville theater (in a scene that's so similar to the premiere scene in American Movie that they CAN'T be coincidental). In the middle, though, what's important is a trailer park in Jacksonville and how its inhabitants get on from day to day. Perhaps it's just a way to say that the viewer can look into the Jerry Springer mentality without having to watch Jerry Springer, but there's something to be said, certainly, for not having to watch Jerry Springer. This brings us to the final, and most important, question. Is this in fact a real documentary? Do these people really exist, or is Mule-Skinner Blues a sick joke thought up one night by Clive Barker (whose name is at the beginning as "Clive Barker Presents," and gets a thank-you at the end, but his name appears nowhere else in the credits. One wonders what connection he actually has to the film) and Stephen Earnhardt? It's billed as a straight documentary, and Sundance is touting it as such; that's how it will be billed in its April 2002 theatrical premiere. But there are just too many times, watching this movie, when I found myself saying "these people just can't be real." I have to give Earnhardt the benefit of the doubt with this one, but I won't be surprised if it's all revealed to be a big joke at some point down the line. Either way, if you liked American Movie, you'll probably get a kick out of this. ***
Robert Beveridge
This movie accurately depicted the personalities of the entire cast! Especially Steve Walker, though he has been sober almost 6 years now (2004-2010)his attitude toward music has not changed. Music is his entire being and his lifelong work. I may be a bit partial to the man because he happens to be my father-in-law but I think that anyone who has taken the time to get to know him can see the pure genius in his ability. His music and lyrics have driven many to tears before my eyes. His bond with Holly, Beanie, Ricky, Miss Jeannie, Larry, and the gang is without comparison. Though they are very different individuals, they are brought together by one common thread...THE MUSIC! Personally I believe that royalties should be involved (there were contracts and payment arrangements) but for some reason Steel Carrot Productions feels it necessary to neglect its responsibilities and promises. So far my father-in-law has not earned a dime. He doesn't complain about it but i still think its wrong for a company to hold out! Oh!...Pop if youre reading this, Lacey and Stephen love you and were just thinkin about ya so we decided to post this!!!!
Lacey Walker
½
How could one not love this movie? I mean, if you've ever met someone from a trailer park, you understand the sense of purpose that these people have. It's the desperation in their acts, it's in the way they throw their all into a weekly new life-long goal. If you never see another movie about a Floridian (ex)drunk who makes a movie out of not only a bare bones budget, but making the best of his surrounding community's abilities, then this should be the one. I honestly have never watched a movie quite like this.
Danielle Johnson
Mule Skinner Blues Quotes
There are no approved quotes yet for this movie.