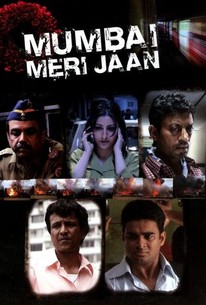 Mumbai Meri Jaan
2008, Drama, 2h 47m
2 Reviews
1,000+ Ratings
Rate And Review
Movie Info
When a series of bombs explode in train stations throughout Mumbai, a disparate group of locals are affected in different ways. Thomas (Irrfan Khan), who sells tea, meets Rupali (Soha Ali Khan), a reporter coping with the death of her fiancé. Meanwhile, Suresh (Kay Kay Menon), who is struggling with financial woes, begins to be overly suspect of all Muslims. For Sunil (Vijay Maurya), a policeman working on the case, there is frustration at realizing his corrupt boss is still on the take.
Audience Reviews for Mumbai Meri Jaan
This is mostly a great film. Like Crash (the overrated Oscar winning pap), this follows a number of people leading up to/after a terrorist explosion. The explosion itself is fantastically filmed, it doesn't always look real, but the impact is still there. The second train part completely through me off balance. Like with the majority of these multi-stranded films, some of the stories just aren't as engaging as others, I loved the men tracking down the men they believe to be terrorists but was bored by the journalist/dead fiancé. It's Hindi/Bollywood roots litter the film with overacted parts, cheesy music and laugh-out-loud "tension" building melodramatic nonsense. Worth a watch, but has the same overinflated ego that ruined Crash, luckily the script is infinitely superior.

Had great expectations which were left far from being fulfilled. Could have been way better.
See Details