Munchie
(1992)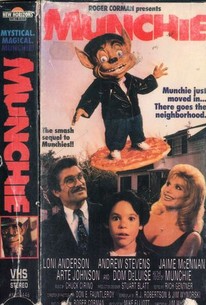 AUDIENCE SCORE
Critic Consensus: No consensus yet.
Movie Info
A loose sequel of the 1987 Munchies film, this movie turns the tables by offering the travails of a good Munchie (voice by Dom DeLuise). Found in an abandoned mine by a young boy (Jaime McEnnan), the creature offers to make all of his dreams come true, including help with bullies and bad grades.
Rating:
PG
Genre:
, ,
Directed By:
Written By:
In Theaters:
On DVD:
Runtime:
Studio:
Concorde/New Horizons Home Video
Audience Reviews for Munchie
A nerdy boy has a hot mom (Loni Anderson). He has a crush on Jennifer Love Heweitt, but is picked on my fellow students, his teachers and hand mother's creepy boyfriend. Lucklily he finds one of the monsters from Munchies, which is now family-friendly. He uses the monster's powers to enact revenage and harm to his enemies. But, he was a good enough to use the powers for good by getting himself pizza. Pretty horrible in every way, even with Dom DeLuise as the monster's voice.
D M
½
Why don't you go inside your box and find yourself a new friend? A kid finds a box in a cave with a chain around it and a pin. The boy unlocks the chain and a Munchie jumps out of the box. The munchies follows him around and makes his life better and his dreams come true; unfortunately, some of the Munchie's decisions makes the kid's mom's life tougher. The child will have to decide if the pros of the Munchie outweighs the cons. "I'm Mr. Spock. This is captain Kirk. I think it's time to beam him up." Jim Wynorski, director of 976-Evil, Ghoulies IV, Munchie Strikes Back, Chopping Mall, Deathstalker II, Big Bad Mama II, The Return of Swamp Thing, and Sins of Desire delivers Munchie. The storyline for this picture is a childhood friendly movie from the 80s that is a little less politically correct than today's films. The comedic content is mediocre and the special effects are just okay. The acting is average and the cast includes Loni Anderson, Andrew Stevens, Dom DeLuise, Jennifer Love Hewitt, and Ace Mask. "How about pulling out that pin so I can get out of here?" I remember watching this as a kid and not paying that much attention to it. I watched this with my daughter today and I can tell you this doesn't have much going for it. The special effects are lame and outdated. The premise for the film was a completely different direction than Muncies (which I liked better). Overall, I'd skip this picture. "When I take a lady out I always pay." Grade: D
Kevin Robbins
I miss the late 80's and early 90's, when weird movies like this would be made. This is a fun little film that at it's best is a great character for famed voice actor and comedian Dom Deluise, and at it's worst a poorly puppeted creature and a film which fizzles out towards the end. But I love the concept of the character so much, there's a lot of potential in him!
Justin Bowen
Munchie Quotes
There are no approved quotes yet for this movie.