Munster, Go Home
(1966)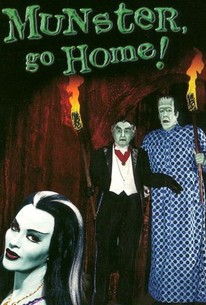 AUDIENCE SCORE
Critic Consensus: No consensus yet.
Movie Info
Based on the 1960s television series The Munsters, this feature-length comedy finds the ghoulish clan relocating overseas when father Herman inherits a large English estate. Little do they know that their new home is occupied by a group of criminals, who make every effort to scare the family away.
Critic Reviews for Munster, Go Home
There are no critic reviews yet for Munster, Go Home. Keep checking Rotten Tomatoes for updates!
Audience Reviews for Munster, Go Home
Made just after the series ended it's run on TV, the Munster's quickly returned on the big screen, in what is essentially a bloated Munsters episode set in England and in Color. The cast from the show all return, with the exception of Pat Priest as Marilyn (Universal apparently changed her for some contract actress they had), and the plot involves Herman inheriting a British estate and becoming Lord Munster (much to the chagrin of the Bratty British Munsters who wanted the power and money). Somehow it all ends up with Herman in a drag race. If you like the show, this is a fun addition to that, but it has some gags repeated from the show and isn't the most exciting thing in the world. Fun for family Halloween viewing, but not as fun as the series had been.
Ken Scheck
½
Herman Muster inherits a title as well as lots of money and a castle in England, so the family ventures over there to start their new life. They are not well liked due to the 300 years of the English wing of the family having a reputation of being seen as the "others" - odd, alien, bloodsuckers who are known for such misdoings as poisoning wells and killing people in the countryside and doing strange things to the bodies. The family has a nefarious reputation, but are wealthy and have been able to buy off the town constable. I wasnt familiar with the series, but I found this rather enjoyable with lots of gags, especially owing to the classic Universal monsters.
D M
Movie fans, go home! Run for the exits too! Not funny, not even mildly amusing. The Addams Family (which I tend to confuse with these morons The Munsters) aren't even in the same graveyard. [img]http://t1.gstatic.com/images?q=tbn:ANd9GcSPJfv9GSM743pcU8M0HkgLj_ZjAYeUJcdZrgq09t7X0Ffz7iZQ[/img] For the unbelievers, SEE the entire film here: www.youtube.com/watch?v=ak-5BrFmArc Trust me, skip this one unless possibly you are a diehard fan of The Munsters. Even then skip it. One minute of film will convince most anyone but a 2 year old to change channels. [img]http://t1.gstatic.com/images?q=tbn:ANd9GcTovySUilYkwus-kNuPV15RLg0njEGvJE9bQlH13hws5GNdhCnw[/img] Munster, Go Home! is a 1966 American film based on the hit 1960s family television sitcom The Munsters. It was directed by Earl Bellamy, who also directed a number of episodes in the series. The film reunited the original cast, except for Marilyn, who was played by Debbie Watson. [img]http://t0.gstatic.com/images?q=tbn:ANd9GcSbaoznG8cqn8xcXkVf6gh4fipcpgoJIAVPZ-VzD6izCZy1dZMP[/img] The cast is rather extensive with many familiar sixties names so this might be of use to fans of the era. Many of these actors are long forgotten or worse, no doubt never heard of by most RT members. [img]http://t1.gstatic.com/images?q=tbn:ANd9GcR3d_TzlkV09CuIrcX10pSO1Hib_91ZIVMEMJ7BpljbsByBVtkBWw[/img] NOTES: 1 The film, which offered audiences an opportunity to see the Munsters in color rather than the black-and-white format of the television series, was not a commercial success upon its original theatrical release. [Really?] [img]http://t0.gstatic.com/images?q=tbn:ANd9GcQQADAMqG4ugVeiLBTZO_HgiI52Uh9xLco-XKig74txacmFb6PX[/img] REVIEWS from the wee folk: 50% I prefer the Addams Family when it comes down to it but the Munsters are not far behind 50% While The Munsters are usally comic genuises, this movie was mildly funny and mildly entertaning. Munster, Go Home! Directed by Earl Bellamy Produced by Joe Connelly Bob Mosher Written by Joe Connelly Bob Mosher George Tibbles Music by Jack Marshall Distributed by Universal Studios Release date(s) June 15, 1966 (1966-06-15) Running time 96 mins [img]http://t3.gstatic.com/images?q=tbn:ANd9GcTeIIz5szrslPQxIaAz1Ufyp7rKY9hVFAGhTAuhRbMJIZ6l1VYTe98HR4_2nA[/img] Cast Fred Gwynne - Herman Yvonne De Carlo - Lily Al Lewis - Grandpa Butch Patrick - Eddie Debbie Watson - Marilyn Hermione Gingold - Lady Effigie Munster Robert Pine - Roger Moresby Terry-Thomas - Cousin Freddie Munster Jeanne Arnold - Cousin Grace Munster John Carradine - Cruikshank Ben Wright - Hennesy Richard Dawson - Joey Jeanne Arnold - Grace Maria Lennard - Millie Cliff Norton - Herbert Diana Chesney - Mrs. Moresby Arthur Malet - Alfie Robert Ball -(uncredited) Dick Crockett - (uncredited) Jack Dodson - Shipmate (uncredited) Jimmy Garrett - British Hooligan (uncredited) Henry Hunter - (uncredited) Peter James - (uncredited) Helen Kleeb - Emily (uncredited) Don Knight - (uncredited) Laurie Main - (uncredited) Gary Marsh - (uncredited) Terence Mitchell - (uncredited) Stacy Morgan - (uncredited) Richard Peel - (uncredited) Glenn Randall Jr. - (uncredited) John Trayne - (uncredited) Dennis Turner - (uncredited) [img]http://t1.gstatic.com/images?q=tbn:ANd9GcRLn1REYX5uLaB0ECF4qVCoqB0xxlcKmZwtA_XUTsNmSCctOu2CVw[/img]
monsieur rick
Munster, Go Home Quotes
There are no approved quotes yet for this movie.
Discussion Forum
Discuss Munster, Go Home on our Movie forum!