Munyurangabo
(2009)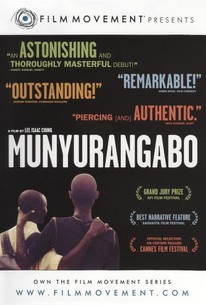 Movie Info
After stealing a machete from a market in Kigali, Munyurangabo and his friend, Sangwa, leave the city on a journey tied to their pasts. Munyurangabo wants justice for his parents who were killed in the genocide, and Sangwa wants to visit the home he deserted years ago. Though they plan to visit Sangwa's home for just a few hours, the boys stay for several days. From two separate tribes, their friendship is tested when Sangwa's wary parents disapprove of Munyurangabo, warning that "Hutus and Tutsis are supposed to be enemies."
Rating:
NR
Genre:
,
Directed By:
Written By:
In Theaters:
On DVD:
Runtime:
Studio:
News & Interviews for Munyurangabo
Critic Reviews for Munyurangabo
Audience Reviews for Munyurangabo
Liberation Is a Journey This is the first dramatic film made in the Kinyarwanda language. It's a language I've heard before, because I've seen documentaries about what happened in Rwanda not all that long before this movie was made. However, it may be that to immerse yourself in a language, even one you do not speak, gives you a feel for the people who do. Near the end of the film, a poet recites the poem he has written for a ceremony celebrating what I believe to be the Rwandan equivalent of Independence Day, and the rhythm of the language is so powerful that I could listen to it even without the subtitles--and, it's worth noting, someone has put enough thought into the subtitles so that what he says is still poetic after it's been translated. Rwanda is a troubled country, but this film lets you see some of the good which remains and leaves hope that things are going to get better, that the suffering of recent years will bear a crop of peace. Munyurangabo (Jeff Rutagengwa), or Ngabo, is on a journey with his friend, Sangwa (Eric Ndorunkundiye). Ngabo carries a machete in his bag, and you don't have to be a genius to understand that he doesn't plan to use it for cutting brush. Sangwa convinces him that they should hitchhike on their journey and instead spends their bus fare on a nice shirt to wear when they reach the home of his parents (Jean Marie Vianney Nkurikiyinka and Narcicia Nyirabucyeye). Only Sangwa has been gone for three years because of a disagreement with his father, whom he remembers only as an abusive drunk. He may not drink anymore, but he still isn't a very pleasant person. His father is furious at him for having left the family, insisting that he should have stayed home to help care for the younger children, and he's none too pleased that he has returned now--and that he has returned with Ngabo. There is one thing most Westerners know about Rwanda, and it is the thing which is important here. It never occurred to these boys that they shouldn't be friends until people started telling them so. Tribe did not matter to them. They liked each other, and that was what mattered. It is only when Sangwa returned home that they even thought of it, I think. Obviously, they knew, but there's a difference between knowing and caring which they didn't cross until Sangwa was back in his home village, back among the people who raised him and told him how to think. And the problem with returning to them is that you also return to your previous patterns of thought. Even if you think they're wrong and always have. That's just how going home feels. When I last stayed at my mother's house, she had certain expectations of my behaviour--and she makes certain assumptions about my beliefs. Luckily for me, that doesn't involve believing I should hate anyone in particular or in general. I have a lot of friends who aren't so lucky, and there isn't even genocide required. It's worth noting that this first film is not, in fact, made by Rwandans. At least not directed, produced, and so forth. Director Lee Isaac Chung is from Colorado and is the child of Korean immigrants. All the actors are actually Rwandan, and most of them have none nothing else. However, he apparently taught a film class in Rwanda with this as a result, and the poem was written by the man who delivers it, Edouard B. Uwayo. While this may not be solely the voice of the Rwandan people, it's much closer to it than most Western takes on the story. And I think it is also an attempt to give the Rwandan people a language, if you will, with which to communicate with those outside their country. It's a short step from there to producing their own stories, not all of which need to be about the genocide and its aftermath. Indeed, it's possible that a Rwandan movie about some other thing entirely might catch the global imagination and help the process of healing for the country. That is, in the end, what the movie is about. Healing. Will Ngabo and Sangwa let their tribal ancestry destroy their friendship? Will what happened before destroy everything which might come after? Will Ngabo be consumed by his demons? Will Sangwa let his father control him? We can never be sure, of course, because the future of the country is no more written than what happens after the film fades to black. However, there are some signs of hope. The literacy rate is improving, and the democratically elected government is working to improve health care access for the people. As the genocide fades into the past, it is to be hoped that the new generation will be able to move beyond events they cannot themselves remember, were not themselves born during. The world continues to change, and in Rwanda, the world seems to be changing for the better. Of course, I do not ask for a sequel, because I think few movies really require them. But I will watch what goes on with the country in the news as well as at the movies.
Edith Nelson
½
In "Munyurangabo," Ngabo(Jeff Rutagengwa) is mad at his friend Sangwa(Eric Ndorunkundiye) for spending their bus money, forcing them to hitchhike instead from Kigali. It turns out the money was for a dress shirt to impress his parents who he has not seen in three years. His mother(Narcicia Nyirabucyeye) is very happy to see her son but his father(Jean Marie Vianney Nkurikiyinka) is more than angry, saying that he wish his son had never been born. Things cool down as times are tough and the labor of the two men is needed in the fields. Regardless, Ngabo wants to move on because they have a man to kill, attested to by the machete he is carrying in his backpack. "Munyurangabo" is a compelling and deliberately paced look at Rwanda fifteen years after the genocide. It is interesting to see a new generation coming of age and how they are haunted by the mistakes and crimes of their parents' generation. While some seek revenge, others are left wondering what role their parents may have played in the atrocities. At the same time, the healing process that is necessary for the country to move forward is starting to unfold.
It was boring. But I liked how they mentioned the conflict that happened in Rwanda between Tutsis and Hutus.
Bruno Lot
Munyurangabo Quotes
There are no approved quotes yet for this movie.
Discussion Forum
Discuss Munyurangabo on our Movie forum!