Murder by Death
(1976)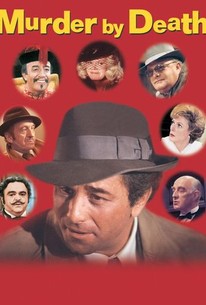 Movie Info
Neil Simon's comic tribute to detective films begins when a reclusive millionaire invites a number of famed detectives, each a parody of a famous literary sleuth, to dinner. Naturally, a series of murders soon begins, and the humorous race to be the first to solve the mystery is on.
People Who Like this movie also like
News & Interviews for Murder by Death
Critic Reviews for Murder by Death
Audience Reviews for Murder by Death
½
If you know the historical touchstones from early 20th century crime fiction, this is a fantasticly funny film. Any how can you not LOVE Truman Capote?! Q: How do you stay looking so young? Answer: "A pure vegitable diet, 10 hours of sleep at night, and LOTS and LOTS of makeup."
Christian C
Super Reviewer
Really really enjoyable. Perfect Sunday afternoon faire. And Maggie Smith is smokin hot. Oh Minerva McGonagall!
Ken Stachnik
Super Reviewer
Sidney Wang: No pulse, no heartbeat. If condition does not change, this man is dead.  "You are cordially invited to dinner... and a murder!" I really loved this stupid spoof of the murder mystery genre. Murder by Death is hilarious film that is pure fun from start to finish. All of the characters were funny, but the two I loved the most were Wang and Diamond. Wang is an Asian played by Peter Sellers. How is that not going to be hilarious? Diamond is played by Columbo himself, Peter Falk. Both of these actors and a great supporting cast featuring Maggie Smith, Truman Capote and James Cromwell make for one hell of an entertaining comedy.  The five best detectives are invited to a mansion where the owner, Lionel Twain promises them dinner and a murder. Each detective and their second are greeted by someone trying to kill them by making a piece of the building fall. Then they are shown to their rooms by a blind butler. And their meal will be cooked by a woman who can't speak or hear, and the butler doesn't know this because he can't see he note cards saying she can't speak. This is the type of humor you should be expecting throughout the whole film. Murder by Death is perfectly paced and also has a perfect runtime. It knows, like all the good spoofs do, not to overstay its welcome. Comedy like this can only be funny for so long, and when Murder by Death ends it is still funny. This film combines slapstick humor and stereotype humor into the murder mystery plot with great results. There is very little that the characters say that isn't at least mildly amusing, and a great deal of the time, hilarious.  This is kind of a forgotten and under appreciated comedy from the 1970's. I would give it a recommendation on Seller's alone, but everything else about it is great too. The ending wasn't as funny as it should have been or as funny as Neil Simon probably thought it was, but overall I can't say enough about the film. Sidney Wang: And you Mr. Charleston, did not approve of Mrs. Charleston dying her hair blonde? Dick Charleston: What do you mean?  Sidney Wang: Mrs. Charleston's hair red. You have blond hairs on shoulder. This means she has dyed red hair blonde, then back again to red, or else you have been... So sorry, Wang is wrong. 
Melvin White
Super Reviewer
Murder by Death Quotes
| | |
| --- | --- |
| Miss Jessica Marbles: | Hello, where is everyone? |
| Insp. Sidney Wang: | Room filled with empty people |
| | |
| --- | --- |
| Sam Diamond: | Stop that. Stop that, I said. |
| Dick Charleston: | What is it, Diamond? |
| Sam Diamond: | The nurse is giving my palm the finger, the dirty old broad. |
| | |
| --- | --- |
| Dora Charleston: | That's probably the cook...come in! |
| Dick Charleston: | Darling, the poor woman is stone deaf. |
| Dora Charleston: | I'm sorry, I forgot...COME IN!!! |