Murder in the First
(1994)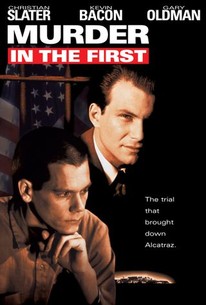 Murder in the First Photos
Movie Info
This shocking prison drama was inspired by a true story. In 1938, Henri Young (Kevin Bacon), sentenced to Alcatraz for stealing $5, attempted to escape from prison with three other prisoners. One of the escapees was captured, and to curry favor with Warden Glenn (Gary Oldman), he informed on the others. Young was soon brought back to custody, and was to be punished by spending 19 days in solitary confinement. Nineteen days stretched into three years, in which Young was kept in a pit with no light, no toilet, no furniture, and nothing to read. Young emerged from solitary a vengeful madman, and he quickly murdered the convict who turned him in. Young was put on trial for the killing, and assigned a first-time public defender, James Stamphill (Christian Slater). Stamphill was horrified by Young's tales of the conditions at Alcatraz, and he used them as the basis of his defense for his client, believing that anyone would be driven to madness and murder if they had been treated the same way as Young. Murder in the First also features Embeth Davidtz, William H. Macy, Brad Dourif, and R. Lee Ermey. ~ Mark Deming, Rovi
People Who Like this movie also like
Critic Reviews for Murder in the First
Audience Reviews for Murder in the First
½
A young convict imprisoned in Alcatraz murders a fellow inmate after spending three years being brutally beaten in solitary confinement. Murder in The First is a courtroom drama based upon the true story of a man who was transformed into a murderer on the brink of insanity by his merciless treatment at the hands of the American penal system in the infamous state prison. Kevin Bacon takes centre stage as the broken shell of a man and although his performance is a little affected, it's still a harrowing tale that shocked the nation at the time. The superior cast, including Gary Oldman as the cold and ruthless governor and William H. Macy as the district attorney looking for an open and shut case, are what make the film in general; the direction can be slightly clumsy and the script writer a little too fond of "dictionary definitions", but it's an important and moving story that the viewer cannot help but be drawn into. One of those films that works because it was a true story and although a little melodramatic its button pushing works for rather than against it as a result.
½
James Stamphill: Unlike many men who lived long after, Henry Young did not die in vain. In the end he was not afraid. He lived and he died in triumph. If only we could all do that.  "One broke his silence. The other broke the system." I did not for the most part like Murder in the First. Most of that came from my general distaste for the lead, Christian Slater. Everything he does in this movie irritates me. The rest of the cast is amazing though, especially Kevin Bacon, who gives one of the better performances I have seen from him. Gary Oldman and William H. Macy are also good, but they have such small roles that they don't really affect my feelings toward the movie.  Murder in the First is the true story of Henri Young, a man who was convicted of stealing $5 and sent to Alcatraz. He tried to escape, but was unsuccessful and ended up being put in solitary confinement. There was supposed to be a limit on how long a man could stay in solitary and that was 19 days. Henri was stuck there for three years and when he came out he killed the man who narced him out. The rest of the movie is an average courtroom drama that seems really fabricated. I don't that that is the case necessarily, but nothing the film really felt genuine. It seems as if a lot of liberties were taken in approaching this story. It is still a worthwhile film to watch because of that performance from Kevin Bacon as Henri and of course because the story is a pretty interesting one. I just think this could have been done so much better and that it could have benefited from having a better lead. He isn't a terrible actor, but he is just all wrong in this role. Christian Slater seems more at home in movies like Very Bad Things. 
Melvin White
Super Reviewer
I thought this was just another boring prison drama, but it is based on a true story, which makes it slightly more interesting. If you like prison dramas, you'll like it better than me.
Murder in the First Quotes
| | |
| --- | --- |
| Henri Young: | You don't know what you're talking about, because you don't know what it's like! |
| James Stamphill: | What's like? |
| Henri Young: | Alcatraz! I mean where do you think they're going send me those ten years they're talking about!They're going to send me back to Alcatraz those ten years they're talking about! |
| James Stamphill: | Henry, when it's over you'll be alive! You'll be able to take care of your sister.. |
| Henri Young: | I'm the one that's got to do the time, not you! And I can't do it! I can't! It's not worth it! |
| | |
| --- | --- |
| Henri Young: | I spent three Goddamn years in the dark thinking. I hate thinking! |
| | |
| --- | --- |
| Associate Warden Glenn: | Henry, I have a job to do here at Alcatraz. Do you know what that is? To protect you from yourself. |
| | |
| --- | --- |
| James Stamphill: | The federal guideline regarding solitary confinements states that the maximum stay for an inmate shall not exceed nineteen days. |