Murderers Are Among Us (Die Mörder sind unter uns)
(1946)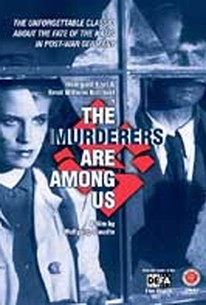 Movie Info
In this, the first film produced in postwar Germany, a doctor who served in a concentration camp attempts to deal with his immense guilt and ascribe meaning to his life. Driven to drink by his tormented conscience, the doctor wanders through a Germany ruined by the privations of the war, while his former captain at the camp has neatly segued back into a nice life with his family, apparently untroubled by his participation in the Holocaust. Encouraged by his girlfriend, a concentration camp survivor (Hildegarde Knef, in her first starring role), the doctor decides to denounce his captain to the war crimes investigators. Their personal crusade to bring the Nazi captain to justice becomes an allegory for the state of the German people. ~ Brian Whitener, Rovi
Rating:
NR
Genre:
, ,
Directed By:
Written By:
On DVD:
Runtime:
Critic Reviews for Murderers Are Among Us (Die Mörder sind unter uns)
Audience Reviews for Murderers Are Among Us (Die Mörder sind unter uns)
A historically important film, being that it was the first film produced in Post World War II Germany. A doctor who served with the Nazis during the war, now finds himself after the war overcome by grief and guilt for the horrors he saw during the war. Unable to continue his work as a doctor, due to his disillusionment with the darkness in men's hearts he walks to streets of his bombed out city amongst the rats, and drinks excessively on a daily basis. That is until a woman comes into his life, who helps him out of his depression. At the same time, a commanding officer from his past also comes into his life. Since the war, despite his crimes against humanity, the Captain returns to his his family life, his home left unscathed throughout the war, and his position of manager at a successful factory. This is too much for the doctor who ultimately takes it upon himself to bring justice to the victims of the war. While not perfect in the story telling department (especially in the second half, which I found wrapped everything up a little too nicely) this film still packs a heavy punch. The footage of the city destroyed by war set the perfect backdrop for this film, and the photography throughout was also top notch. The desperation of the films main character reflects the desperation of an entire nation, and that message is still a very powerful thing for modern audiences to experience. Much of the main character's views seem to be parallell to French Existentialist writers like Jean Paul Sartre or Albert Camus, who were experiencing similar confusion and disillusionment following the war. All in all a must see for those interested in European or Film History, but also really just a good movie with an important message and story. Recommended.
Ed Fucking Harris
Super Reviewer
Berlin has surrendered, the Reich has fallen, Germany lost once again. Amidst the war torn ravages, the people also cope with psychic rubble. An important film, the first shot in post-war Germany, using the very real setting of a city destroyed, rats included. There are some wonderful shots and montage sequences, yet the plot isn't near as sophisticated as the setting and subject matter. Fortunately, the Soviets were interested in developing a cinematic presence for post-war Germany, as the Western Allies were strongly against film production.
Stefanie C
Super Reviewer
Astonishing visuals from post-war East Germany, excellent, ahead-of-its-time filmmaking, powerful characterizations and storytelling that will bowl you over. Suffers a bit from giving away its final act too early on; other than that it's a stunning piece of cinema.
Davey Morrison Dillard
Murderers Are Among Us (Die Mörder sind unter uns) Quotes
There are no approved quotes yet for this movie.
Discussion Forum
Discuss Murderers Are Among Us (Die Mörder sind unter uns) on our Movie forum!