Murderous Maids
(2002)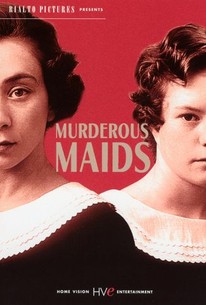 Movie Info
Based on the same infamous murders that inspired Jean Genet's play +The Maids, and the earlier film Sister My Sister, this French drama explores the difficult family life, professional pressures, and forbidden bond that in 1933 led sisters Christine and Lea Papin to murder the mother and daughter who employed them as maids. Based on Paulette Houdyer's novel L'affaire Papin, Les Blessures Assassines traces the childhood of Christine Papin (Sylvie Testud), a high-strung child who follows older sister Emilia to a convent school after their parents' bitter divorce. Emilia, who claims to have been molested by their father, eventually becomes a nun, while Christine goes into service to support her libertine mother (Isabelle Renauld), whom she heartily resents. Coddled youngest sister Lea (Julie-Marie Parmentier), who is allowed to grow up at home, feels torn between her love for her mother and her close bond with Christine. A talented but moody servant who is prompt to demand her rights under France's labor laws, Christine moves from position to position, but eventually finds a series of households where she and the now teenaged Lea can serve together. Living and working together, the sisters develop an uncanny affection that crosses over into lesbian incest. Eventually jealousy, class resentment, and family drama drive Christine over the edge -- and she is not above taking the mostly innocent Lea with her. Released the same year as the Papin documentary En Quete Des Soeurs Papin, Les Blessures Assassines marked the first film in more than a decade from writer/director Jean-Pierre Denis.
Rating:
NR
Genre:
,
Directed By:
Written By:
In Theaters:
On DVD:
Runtime:
Studio:
Critic Reviews for Murderous Maids
Audience Reviews for Murderous Maids
Two lesbian sister domestics go stir crazy and slay their repressive lesbian employers. Based on an actual case, better than you might think.
Tammi Black
I just did not find this film interesting. It felt long and tedious, kind of homework as punishment. The plot was uninteresting, simplistic and to slow, so, that you never really make any type of connection with the characters. I really don't recommend it.
Ana Araiza
½
Disturbing true-life tale of madness that resulted in the brutal murder of a woman and her daughter by their maids, two sisters. Sylvie Testud plays Christine, the elder sister who harbors an unnatural attraction for the less intelligent, younger Lea (Julie-Marie Parmentier) that develops into obsession. The film develops slowly, at times revealing the anger that lies just below the surface in Christine, and at other times showing how the two girls feed each other's fantasies about how their lives would be under other circumstances. Add in a mother (Isabelle Renaud) who seems to care little about her daughters other than how they can make her life easier. The acting is credible, the script plausible and the action keeps one engrossed, especially that of the two sisters interaction when they are alone in their room. The violence at the end is graphic and brutal, but mercifully off camera for the most part. We see the blows and hear them connect, but the actual impact is just out of the frame. There can be no doubt that Christine has taken leave of her senses by the end of the film, and one feels pity for her for that reason. This is a well-done film, just not a whole lot of fun to watch.
Mark Abell
Super Reviewer
Murderous Maids Quotes
There are no approved quotes yet for this movie.