Murph: The Protector
(2013)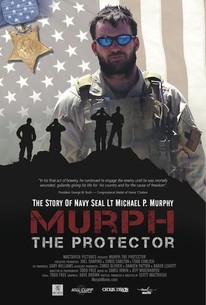 Murph: The Protector Videos
Murph: The Protector Photos
Movie Info
MURPH: The Protector is a feature-length documentary based on LT Michael Murphy's life of honor, courage and commitment, as told by his friends, family and teammates. Michael was raised in Patchogue, New York, attended Penn State University and then joined the U.S. Navy to serve in the SEAL Teams. Well-known for his selflessness, Michael gave his life for his men in 2005 and was posthumously awarded the Congressional Medal of Honor in 2007. His legacy now lives on in this moving portrait of a real American hero.
Critic Reviews for Murph: The Protector
Audience Reviews for Murph: The Protector
Good insight into a man with an average upbringing that elevated himself to a life that embodies extreme courage and honor. In addition, it reinforces the message that this is only achievable with a true desire to give with no expectation of anything in return.
Phil Thomas
This film reminds us all and teaches younger generations that true heroes exist and they don't always wear capes. Director Scott Mactavish helped open the door to this great Americans life and did so with class and tremendous passion. I ordered my DVD in June 2012 and I can't wait to watch it again with my 7 year old to show him what a real hero looks like. This truly is the best documentary I have ever seen. Bravo.
Chris Heeg
Shows a true American hero. Someone kids should look up to rather then Peyton Manning, Lebron, David Beckham, etc. If this didn't make you want to be a better person. You have no respect for what these men have done. God bless Lt. Murphy and his family and anyone who knew him. Our country is a safer place because people such as himself step up. Hooah. - Pfc. Hale, Cavalry Scout.
Brandon Hale
Murph: The Protector Quotes
There are no approved quotes yet for this movie.
Discussion Forum
Discuss Murph: The Protector on our Movie forum!