Murphy's War
(1971)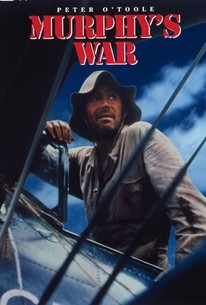 AUDIENCE SCORE
Critic Consensus: No consensus yet.
Movie Info
The story takes place in the jungle coast of Venezuela at the end of World War II. Murphy (Peter O'Toole), an airplane mechanic, is the lone survivor of a German submarine attack on an armed merchant ship. Murphy wants to get even. A missionary nurse (Sian Phillips) helps him recover from his injuries, a dying pilot tells him of a repairable airplane, and a French engineer helps him develop some makeshift bombs. With their help he restores the airplane so as to wage his own private war on the submarine. Though he has never flown a plane before, he goes in search of the German boat to harass it with homemade bombs. In the process, he is always on the brink of disaster because of his erratic flying. Though his daredevil efforts seem to have little effect, he keeps on trying.
Rating:
PG-13
Genre:
, ,
Directed By:
Written By:
In Theaters:
On DVD:
Runtime:
Studio:
Paramount Pictures
Audience Reviews for Murphy's War
Quality film, great photography, Peter O'Toole as Murphy learning to fly and attempt to sink a German submarine at the end of WWII. If you can tolerate O'Toole's thick Irish accent and the drone of a noisy seaplane than you will survive this action yet dramatic film. SEE the entire film here (for free!): http://www.youtube.com/watch?v=e3anBO5O5yo [img]http://upload.wikimedia.org/wikipedia/en/9/92/Murphy%27s_War_Poster.jpeg[/img] "Murphy's War is a 1971 war film starring Peter O'Toole. It was directed by Peter Yates and, while it has much in common with The African Queen, it is based on a novel by Max Catto. The stunning and sweeping cinematography was by Douglas Slocombe."--- wikipedia [img]http://ts3.mm.bing.net/th?id=HN.608013746799575434&pid=15.1[/img] Do NOT get anxious to quit this film as the last hour is extraordinary. It masterfully shows what one man with enough courage and revenge can do, even though he and the Germans know the war is officially over. But the ending is the way it gains so much credibility and therefor the rating. [img]http://i1.ytimg.com/vi/fKOy9GRqqVE/hqdefault.jpg[/img] Inside the German submarine with all speaking German By all means, one of those films that sneaks up on you if you just give it a chance to end. Reasonably paced, builds to an ironic and painfully emotional end. Peter O'Toole demonstrates why he was and is one of the true acting greats of our time. [img]http://lh6.ggpht.com/-AkiDMJgU3Hg/Sx1Sx8tl8vI/AAAAAAAAAB4/oDqobtzaEOU/Grumman%252520J2F%252520Duck%252520%252528From%252520Murphys%252520War%252529.%252520Classic%252520Airframes%2525201-48%252520Scale.jpg[/img] Murphy's plane REVIEWS by us: 100% Excellent war adventure. O'Toole and his wife working well together. 70% One mans slow going private war against a German sub. [img]http://aleprod.com/wp-content/uploads/2009/12/murphywar1MOS_468x283.jpg[/img] O'Toole and friend repairing the plane NOTES: 1 Several Peace Corps volunteers serving in towns near the Orinoco River were recruited to play Nazi submariners. 2 Michael Deeley says that he and Peter Yates turned down the chance to make The Godfather (1972) to make this film. 3 The plane, a OA-12 Duck used in the film was restored and flown by Frank Tallman and is on display at the National Museum of the United States Air Force at Wright-Patterson Air Force Base in Dayton, Ohio. 4 Murphy's War was not well received either critically or at the box office. [a shame, it's a great film] [img]http://www.cinemotions.com/data/films/0110/92/1/affiche-La-Guerre-de-Murphy-Murphy-s-War-1971-2.jpg[/img] CAST Peter O'Toole as Murphy Siân Phillips as Dr. Hayden Philippe Noiret as Louis Brezon Horst Janson as Commander Lauchs, German Submarine Captain John Hallam as Lieutenant Ellis, Seaplane Pilot from RNMS Mount Kyle Ingo Mogendorf as Lieutenant Voght, Submarine Executive Officer [img]http://ts4.mm.bing.net/th?id=HN.607998302094033319&pid=15.1[/img] Directed by Peter Yates Produced by Michael Deeley Written by Max Catto (novel) Stirling Silliphant Music by John Barry Ken Thorne Cinematography Douglas Slocombe Editing by John Glen Frank P. Keller Studio Hemdale Michael Deeley-Peter Yates Films Distributed by Paramount Pictures Release dates 1971 (1971) Running time 107 min. Country UK/U.S. Language English and German [img]http://ts1.mm.bing.net/th?id=HN.608043742852219736&pid=15.1[/img]
monsieur rick
½
not gonna write a review on this, but thought you might enjoy it if you can find it. only 34 people on flixter have seen this and 26 gave it 4 stars. awsome performance from o'toole as a obsessed seaman bent on destroyiing theu boat tha sunk his ship. if you can find well worth watching.
wyatte pittman
Murphy's War Quotes
There are no approved quotes yet for this movie.