Must Read After My Death
(2007)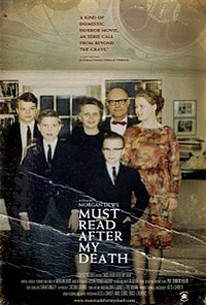 TOMATOMETER
AUDIENCE SCORE
Critic Consensus: Impressively constructed from home movie clips and audio recordings, Must Read After My Death is both searing and intimate.
Must Read After My Death Photos
Movie Info
Assembled from 300 pages of official transcripts, 50 hours of audio diaries and Dictaphone records, and 201 home movies left behind by the free-thinking mother who railed against convention, director Morgan Dews' intimate documentary follows the journey of an unconventional 1960s-era Connecticut couple who turned to psychiatry in order to save their failing marriage, inadvertently tearing their family apart in the process. Allis and Charlie were attempting to find out why their marriage was crumbling when they decided to submit their family to group and individual therapies. Later, as the family began recording their conversation and conflicts as instructed by doctors, pills were prescribed and family members were sent away for evaluation. At this point, Allis began to question the effectiveness of the treatment. After Allis' death, her children discovered that their mother had hidden away virtually all of the films, audiotapes, and medical records from this turbulent period of their family history. In this film, director Dews draws on those materials to assemble a curious exploration of his family's struggle. The result is a film that is deeply personal as it explores the downfall of a typical American family, and highly informative as it explores the mores of a pivotal point in 20th century history. ~ Jason Buchanan, Rovi
Rating:
NR
Genre:
,
Directed By:
Written By:
In Theaters:
Runtime:
Studio:
Watch it now
News & Interviews for Must Read After My Death
Critic Reviews for Must Read After My Death
Audience Reviews for Must Read After My Death
I was expecting so much more. It's basically dirty laundry from a 60's family.
½
The struggle of a suburban American family is documented in hundreds of hours of audio recordings, letters done by the family themselves. Their infidelities, hatreds and failures are all there to be seen. Credit to Dews for the construction of these materials, as he is family, his personal knowledge of what went on allowed him to create a truly heartbreaking portrait. In some ways this is similar to the documentary "Tarnation" which was released back in 2004 except that the declarations made by the people seem even more natural and at the same time so horribly wrong.
Generoso Fierro
Morgan Dews' grandmother, a latter day Elsa Lanchester look-alike, might actually better approximate Frankenstein's mate in this tell-all tale of a filmmaker's grandparents and their rather peculiar marriage. Using over 200 home movies coupled with 50 hours of Dictaphone sound recordings and reel-to-reel audiotapes, the half-broken lives of Allis and Charley are pieced together into an odd jigsaw puzzle of post-mortal disbelief. A wife, who outlived her husband nearly 32 years and kept their secrets even longer, in a shed behind a Vermont house, reveals how a family comes undone in the Hartford, Connecticut, suburbs. In the early 1960s, while Allis and her four kids are home, Charley's travelling in Australia. Early on you quickly deduce that some of the audio recordings are not meant for the kiddies' ears—would you call them bastards, even jokingly? Yes, something is odd here, and as this short (73-minute) first time feature progresses, the candid revelations unearth more than a few family demons. The double-edged recordings were intended for separate listening: all-family ("This one is for the kids.") or spouse-only ("Boy, I sure hope you're listening to these alone."). The bluntness of the language is pretty startling as Charley professes his proclivity to an open marriage and numerous sexual encounters. Allis, who could have taken her husband to the cleaners, instead commends him for his frankness. By the film's end you're left to your own considerations on whether divorce would have benefited all. Dews manages to overlay the audio nicely with the visual selection (the home movies tend to convert to the video format in slowed down motion), coupled with a subtle, haunting score by Paul Damian Hogan. Double exposures (common enough on home movies of the day) are displayed, whether from the camera original or created by the director, with an recurring poetic energy. Charley is short-tempered and prone to stinging physical outbursts. Allis barely considers herself a housewife, but rather a non-conformist in a conformist world. Is Charley's jealous of his wife's first marriage, of her singing (we hear none), and her earlier travels in Europe. While their daughter Anne marries young and flees to NYC, her three brothers have issues with mom and pop. Like the gnomes that populate their household, the family seems to be on its own mythical misadventure. Covering the years 1961-1970, it's the latter part of that decade that becomes the focus for Dews' documentary. The emotional bickering, the physical threats—many heard or vividly recalled on the recordings ("I don't know where we went wrong."). By Thanksgiving 1966, cinematic chaos ensues as the innards of the family spill out on kitchen floor. Son Bruce, already institutionalized for death threats against his father, speaks his mind on a weekend home, while the camera takes an unwieldy, unsettling view of the home's exterior and spins it upside down. Hardly uplifting, although there are happy enough moments following the deaths in the late 60s of two of the family members. Allis finally dances off to Vermont for the remaining years of her life. Grandson and filmmaker Morgan would only discover the true nature of his family's dark roots after her death in 2001, a week before Halloween. I wonder if the Christmas stockings in this family dynamic were stuffed with coal. The heart of the family seems to have gone cold when they moved to Hartford, which I assume was just before the film's story begins. By letting the audio tracks and visual images fend for themselves, the destructive nature of this historical document has the same type of urgency seen in Andrew Jarecki's Capturing the Friedmans. For Allis and Charley, the family's emotional toxicology report is quite disturbing. There are real noxious ghosts at work here. This is darker stuff than Wisteria Lane. [Allis, Charley, and the family's surname is not mentioned anywhere in the film. As an avid genealogist, it took me a few seconds to locate that information, which remains, in this review at least, the family's secret.]
Elias SAVADA
Discussion Forum
Discuss Must Read After My Death on our Movie forum!
News & Features