Mustang Sally
(2006)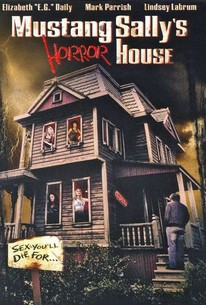 AUDIENCE SCORE
Critic Consensus: No consensus yet.
Movie Info
A group of college friends discover that the hyperbole is true during a weekend trip to a whorehouse where the girls are "to die for." The proprietor of Mustang Sally's Whorehouse is a sexy businesswoman with a mysterious secret (E.G. Daily). Men come from miles around just to visit Sally's girls, though few who enter the house ever come out alive. Later, as the boys start to pair off with their respective "dates," the trap is sprung and the carnage begins.
Rating:
R
Genre:
, ,
Directed By:
Written By:
In Theaters:
On DVD:
Runtime:
Studio:
MTI Home Video
Critic Reviews for Mustang Sally
There are no critic reviews yet for Mustang Sally. Keep checking Rotten Tomatoes for updates!
Audience Reviews for Mustang Sally
The movie looked very low budget. The background music was very cheesy. At least it was not real predictable and the acting was not terrible.
Henry Jones
This movie was awful.I knew it was gonna be 'bad' when I got it but I thought maybe it would be bad in that funny low budget kind of way.NOOOOOOO!Awful,terrible,horrible in every way.Bad acting,bad directing,bad evrything you can imagine.I watched less than half of it before I couldn't take anymore.I do NOT recommend.
Michelle D
[color=black]:rotten: You make me... promises promises. This movie sucked so bad, it should've been called "suck". First of all, any film where the lead actress sings the vocals to the title track... egads. And the credits in the beginning reference the production company, "Mustang Sally LLC". Now THAT's scary. I rented this from the uber-evil, right-wing, christian devil organization that rhymes with crockruster, and I am finally starting to see the scars of selling out to corporate christian America. I should know when I see videos with titles like "We Can't Play Unless You've Prayed" on the shelves next to my slash 'ems that something is very wrong here. [/color] [color=#000000][/color] [color=#000000]Anyway, back to the film. Acting is unbelievably bad - the best actor was the door in the whorehouse. The story is totally bizarre and unbelievable - featuring writing that enforces the notion that naive young men are anxiously awaiting "losin' it (sound like a movie from the 80's?)" to sex workers. But the most annoying thing is that what I expected - gratuitous nudity and bloody, gory violence - was absent! Instead, I was delivered plastic knives, gunshots where people fling themselves against rocks or walls and don't bleed, and a guy getting hit by a car going 10 mph, landing on his hand, then looking like he's bloody and dead, but probably just needs some aspirin. And the nudity? Pahleez! Seriously lacking, especially in a whorehouse! Not to overemphasize, but this has got to be the worst ensemble acting I've ever seen - they all sucked ultra-bad. [/color] [color=#000000][/color] [color=#000000]P-u! Shame on you, Mustang Sally, for empty promises. Just like that ex-wife. Sans the violence, at least most of the time.[/color]
Danny Ziemer
Mustang Sally Quotes
There are no approved quotes yet for this movie.