Mutants
(2008)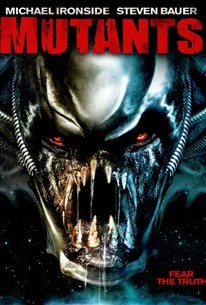 AUDIENCE SCORE
Critic Consensus: No consensus yet.
Movie Info
A mad scientist inadvertently unleashes the apocalypse while attempting to create an addictive additive for a greedy manufacturer. Instead of creating an army of compulsive consumers, it turns regular people into frenzied mutants. When the infection begins to spread at an alarming rate, it's up to the head of security and his girlfriend to contain the threat or die trying. Michael Ironside and Steven Bauer star.
Rating:
R
Genre:
, ,
Directed By:
Written By:
In Theaters:
On DVD:
Runtime:
Studio:
K2 Pictures
Audience Reviews for Mutants
One sentence summary: Sugar additive meant to cause addiction causes violent monsters instead. --------- Manufacturer Braylon, who owns the Just Rite Sugar Company, hires biochemist Sergei to design a food additive to increase consumer return rate. Instead, the additive changes human test subjects into overactive and voracious mutants. 'Nothing is going to derail our plans.' That is a clear indication that stated plans will fail, and there will be lots of collateral damage. During the first half of this film, the human test subjects are only kidnapped and maltreated, and a few are murdered, namely the ones who escape. Experimentation is still going on. During the second half of the film, the breakthrough in the sugar additive is made, and the monsters start being created. What started as purely chemical research somehow has a viral element. Griff, Erin, and Sykes find Ryan and attempt to escape with him. Then the violence really starts. The cavalry arrives to exterminate anything living to contain the outbreak before it spreads to the general uninfected population. ----Scores---- Cinematography: 0/10 I've seen 70k budget films with two levels of camera work better than this. Dark, fuzzy, grainy, low contrast. The daytime footage is almost as bad. Much of it looks like bad telephone capture. Lousy CGI for blowing up the lab. Sound: 4/10 OK some of the time, hollow and poor too much of the time. Irritating incidental music. Acting: 2/10 Michael Ironside and Steven Bauer were competent, but most of the others delivered performances like those in a bad high school play. Erin is supposed to be Griff's daughter, but she looks like his older sister. Brilliant casting. Screenplay: 1/10 Almost all the film is a flashback that does not include the only two competent actors: brilliant. The jokes are non-witty and flat. How this many murders committed in open daylight would not be noticed is hard to figure. The interaction between Erin and her father was unconvincing. Ryan getting kidnapped and held for days without being noticed is absurd. Motivation? Try another film. Business logic? Forget that too.
Ed Collins
Wow this was so bad. . terrible acting horrible everything . . i love me some b movie sci fi but this . .this was horrendous.
John Manard
Wow....that was bad. This definately deserves to be on Chiller or SyFy. They just didn't make it look right. And sugar? Really? Sugar? They could of made it alot more interesting if they put in more interesting scenes that even show mutants. HORRIBLE!
Jacob Palacio
Super Reviewer
Mutants Quotes
There are no approved quotes yet for this movie.