My Fake Fiancé
(2009)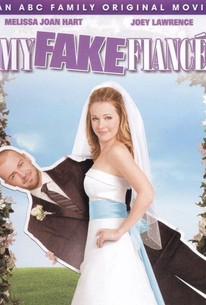 AUDIENCE SCORE
Critic Consensus: No consensus yet.
My Fake Fiancé Photos
Movie Info
A sham marriage leads to genuine romance for a woman who lost everything and a guy who's in debt to a vicious loan shark. Her moving van stolen, Jennifer (Melissa Joan Hart) is left with nothing but three throw pillows and a cardboard box. Meanwhile, thirtysomething charmer Vince (Joey Lawrence) has racked up a rather serious gambling debt. Should he fail to pay up soon, he's likely to wind up crippled for life. Having recently met at the wedding of a mutual friend, Jennifer and Vince surmise that the best way to make some quick cash is to take a trip to the alter themselves. If everything goes as planned, Jennifer will keep the items on the registry, and Vince can avoid becoming a punching bag for a bookie's thugs. Then, they'll have a quickie divorce and everyone will be happy. But in order for the plan to work, they'll have to act like genuine lovebirds. Trouble is, Vince and Jennifer already bicker like a couple that's been married for decades. The closer the wedding gets, however, the more the prospective bride and groom find their fake affections taking on an air of authenticity.
Rating:
NR
Genre:
,
Directed By:
Written By:
In Theaters:
On DVD:
Runtime:
Studio:
Hartbreak Films
Watch it now
Critic Reviews for My Fake Fiancé
All Critics (1) | Fresh (1) | Rotten (0)

Audience Reviews for My Fake Fiancé
I absolutely loved this romantic comedy. It just hits the spot. Sure it's not perfect but what romance is? The chemistry between Joey Lawrence and Melissa Joan Hart is perfect. The story is perfect. Did I tell you that this film is perfect? That was sarcasm but the movie is a jem, it really is. I could watch this over and over and it well still get too me. It has a little When Harry Met Sally feel to it. If you haven't watched this film, check it out. Also check out the show Melissa and Joey on AbcFamily, too. www.what-to-watch.com
Laura Rachel
predictable romcom, but still very cute and i really liked it, love melissa and joey, and i love their new show too!
Brynn Harvie
Definitely not the best - the movie's plot is wafer thin. Jennifer meets Vince at a wedding and the two do not get along at all. The next week, Jennifer's moving van is stolen with all her furniture in it, so remembering that Vince is in trouble with gambling (with the most unconvincing bad guys ever seen in a film), she calls him, and the two hatch a plan to get married. The idea is that Jennifer will keep any gifts for her home, and Vince will keep any cash to pay off his debts, then they will split shortly after. Obviously this is a TV movie, so no point being too harsh, but it seems blindingly obvious to me that Jennifer would have just asked her parents to loan her money to replace her goods - I mean, she was letting them pay for the wedding, so where would be the difference?! Of course, being a tv movie, Jennifer and Vince fall for each other for real, helped along by how good he is with her niece and nephew. I would pan this to bits if it wasn't for Melissa Joan Hart. It is a sweet enough movie to watch, and Melissa is always likeable, but it sure does ask you to put your brain on pause.
Nicki Marie
Super Reviewer
Discussion Forum
Discuss My Fake Fiancé on our Movie forum!
News & Features