Chilgeup Gongmuwon (My Girlfriend Is an Agent) (7th Grade Civil Servant)
(2009)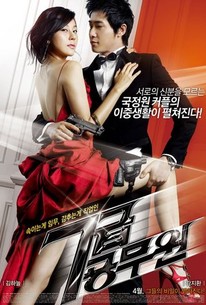 AUDIENCE SCORE
Critic Consensus: No consensus yet.
Chilgeup Gongmuwon (My Girlfriend Is an Agent) (7th Grade Civil Servant) Photos
Movie Info
This slick and tense thriller with comedic elements from South Korean director Shin Tae-ra concerns an aggressive unit of the Russian mafia, detached to infiltrate Korea and filch a cutting-edge chemical weapon. The Korean government issues two secret agents to stop the Russians - both masked by undercover identities: Ahn Soo-ji (Kim Ha-neul), a tough-as-nails female martial arts pro who continues to draw the envy of all of her colleagues, and her male counterpart, klutzy and inept rookie Lee Jae-joon (Kang ji-Hwan), whose unfortunate presence leads to a series of outrageous blunders. Complicating matters, it seems, is the fact that the couple (polar opposites, who hate each other passionately), were once romantically involved. Soo-ji's requirement to maintain a secret life as an agent destroyed the couple by preventing them from maintaining an open relationship. Now, as it so happens, both are agents, and happen to serendipitously run into each other on the job. Though it seems nearly impossible, they must figure out a way to navigate through the possibility of a rekindled relationship, and attempt to save the world at the same time.
Critic Reviews for Chilgeup Gongmuwon (My Girlfriend Is an Agent) (7th Grade Civil Servant)
There are no critic reviews yet for Chilgeup Gongmuwon (My Girlfriend Is an Agent) (7th Grade Civil Servant). Keep checking Rotten Tomatoes for updates!
Audience Reviews for Chilgeup Gongmuwon (My Girlfriend Is an Agent) (7th Grade Civil Servant)
½
This film, surprisingly for a South Korean romantic comedy, has very little to no melodrama whatsoever. It does have some serious moments but the film is concerned with being a silly comedy first and foremost. And good for them, even if the plot is ridiculous and absurd, but it's good to see a film stick to what they do best and not finding a way to force some drama in where it's not needed. I did think the film was pretty funny from beginning to end, funny in a low-brow manner rather than being clever. The comedy, and the way the film's "story" is presented, came across as a TV show. And, ironically enough, just late last month a remake TV series came out in Korea. The humor is very silly and light, so it makes it very easy to digest for a TV audience. I have no idea if the show is still comedic or if it's more of a drama but, again, the story felt more suited to a series. If there is a problem with the film is that the twist in the film is completely ridiculous and idiotic. I'm gonna spoil it now because I don't really care. The film followed these two Russian men who were trying buy this virus from this doctor. Then, in one scene, one of the men took off his "face" to reveal that a woman had actually been one of the Russian men trying to buy this virus. It was literally one of the dumbest twists I've ever seen in a movie, it was really absurd. The woman also shrunk several inches in the reveal. I realize this is a "spy" movie, but at least try to do something that makes sense in the context of the film. This twist didn't make one lick of sense and they tried to justify it by having this woman, who was only seen for 15 seconds jogging at the beginning of the film, be the wife of one of the men that Soo-Ji arrested. If the point was to have the character be a woman, then just have her be a woman from the beginning, instead of passing her off as a "man" only to have a, really shitty, twist on your hands. And it's not like it was clear that this was someone wearing a mask, they actually CAST a man to play this role for most of the film, only to have a reveal. They didn't force any drama in here but they did force in a retarded twist. If there's anything that keeps this film from getting a higher rating, it's that stupid fucking twist. Because, while the movie wasn't hilarious and, as mentioned, had some low-brow humor, it was still fun. The cast is solid, some of the jokes work, and there's no melodrama. But that twist, that twist kept this from being a good film. If you enjoy light-hearted, easy to digest South Korean romantic comedies then I'd say this would be one of the best, even if I can just say it's average at best.
Jesse Ortega
Super Reviewer
½
Light-hearted and completely forgettable action comedy somewhat in the same vain as "My Sassy Girlfriend" and Chuck.
Peter Chow
½
A Korean action/comedy that is well made and is genuinely funny. The story is well defined and it stays on-course throughout the whole movie. The action and comedy compliment the story instead of distracting us from the story, making this a very enjoyable film. Yes, there are some very predictable parts, but isn't that the case with most movies these days?
John Kashihara
Chilgeup Gongmuwon (My Girlfriend Is an Agent) (7th Grade Civil Servant) Quotes
There are no approved quotes yet for this movie.
Discussion Forum
Discuss Chilgeup Gongmuwon (My Girlfriend Is an Agent) (7th Grade Civil Servant) on our Movie forum!