My Little Pony: A Very Minty Christmas
(2007)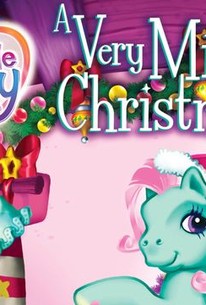 AUDIENCE SCORE
Critic Consensus: No consensus yet.
My Little Pony: A Very Minty Christmas Photos
Movie Info
The beacon that draws Santa to Ponyville has been broken, and it's up to Minty and friends to repair it so that Christmas will arrive as scheduled in this family oriented animated holiday film. Minty has broken the "Here Comes Christmas Candy Cane," and with out it odds are Santa won't be able to deliver his abundant holiday cheer this year. As Minty strives to get the beacon back in shape so all of her pony friends will have a memorable holiday, her friends gather to support their clumsy but well-meaning friend and the group soon learns that the true meaning of Christmas goes beyond the arrival of Santa and the giving of gifts.
Rating:
G
Genre:
, ,
In Theaters:
On DVD:
Runtime:
Studio:
Wang Film Productions Company
Audience Reviews for My Little Pony: A Very Minty Christmas
½
We wish you the magic of Christmas A different pony is in charge of Christmas every year, and this year it is Minty. Minty accidentally breaks the Christmas Candy Cane that sits on top of the Christmas tree. The magic candy cane draws Santa Clause to Ponyville, so Minty knows she needs to make things right. She heads on an adventure to find Santa and explain what happened. "I hope the wind knows the way to the North Pole." Victor Dal Chele, director of Monster High: Fright On, My Little Pony: The Princess Promenade, and episodes of Go-Bots, RoboCop, and Extreme Ghostbusters, delivers My Little Pony: A Very Minty Christmas. The storyline for this picture is as you'd expect for the genre. It wasn't overly creative or an all time classic by any means. The animation style was okay and made for television quality. "How can you smell the sweetness of Christmas without a nose?" I came across this film on Netflix and decided my daughter and I may enjoy it. This did keep her attention all the way through, and she found a few scenes humorous, but this is a below average addition to the genre. This has little going for it but is worth watching with your child once (but an annual Christmas viewing is not required). "Santa won't be able to find us?!?!" Grade: D
Kevin Robbins
The animation looks particularly shoddy, but he film's greatest crime is the annoying, generic, craptastic protagonist. Why do kids shows usually have some annoying twat of a character we are supposed to care about? Monty is one of those people that can't leave anything alone. She's always touching stuff and pissing about, only to act surprised when she breaks something. After this, she then acts like some victim. Her great idea is to commit greater felonies, such as breaking in to the homes of her friends. At least the title song is a catchy little ditty, but past that it's annoying kiddy crap. Only show this to particularly dumb kids.
Luke Baldock
Super Reviewer
½
I'm very impressed how the new MLP productions keep to the style of the classic pony movies and episodes. Usually remakes of old cartoons are nothing like the original, but the new MLP is as sweet and friendly as the one I watched as a child.
Samantha Bates
My Little Pony: A Very Minty Christmas Quotes
There are no approved quotes yet for this movie.