My Best Friend's Birthday
(1987)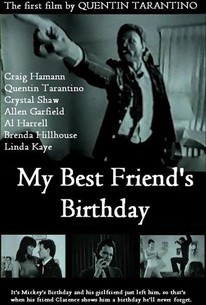 AUDIENCE SCORE
Critic Consensus: No consensus yet.
Movie Info
It's Mickey's birthday and his girlfriend just left him, so that's when his friend Clarence shows him a birthday he'll never forget.
Critic Reviews for My Best Friend's Birthday
There are no critic reviews yet for My Best Friend's Birthday. Keep checking Rotten Tomatoes for updates!
Audience Reviews for My Best Friend's Birthday
½
Quentin Tarantino's short film My Best Friend's Birthday was an exercise for the director to learn how to make a film. With that being said, is the film good? Well, it's decent and it has its moments, but problem is, is that only 36 minutes of the film survived a fire, therefore we never get to see how it turns out. I think it's a great because, the film started to take off before the run time ran out. Oh well. As an experiment, I guess it's ok in the broad sense of the word, and luckily for everyone who appreciates Quentin Tarantino's work, he would later make far better films, with his masterpiece, Pulp Fiction being released in 1994. My Best Friend's Birthday does feature something that would be prominent in every one of Tarantino's big budget films, effective, sharp edged dialogue between the characters. Although here, it clearly needs a lot of polish, we get the idea, and Quentin Tarantino would later hone his skills with Reservoir Dogs, the screenplay for True Romance and of course his second feature film Pulp Fiction. I would say that this film is more for the diehard Quentin Tarantino fan if they want to see where he started out from. Although severely flawed, we get to see a few trademarks that would later shape his filmmaking career. As a way for Tarantino to learn how to make a film, My Best Friend's Birthday is a decent attempt, but like I said, he would later master his craft and become one of the most important filmmakers working in the industry today.
This is a heavily dialogue driven, 36 minute long narrative that's directed by the infamous Quentin Tarantino, incoherently tells the tale of Mickey Burnett, played by Craig Hamann, whom his girlfriend has just broken up with. If that wasn't enough to mess his day up, this event happens to fall on the day of his birthday, but by the friendly gesture from his best friend, Clarence Pool (Quentin Tarantino), he decides to pull off an unforgettable birthday party for him in an unconventional way. Sharp and nimble dialogue is the name of the game here. Admittedly, the narrative may come off as a rambling mess that fails to find a conclusion to its slim narrative. Regardless, the dialogue is so unequivocally witty and engaging that whatever the characters may be talking about, whether it may be small talk or a conversation of grandiose proportions, the writing keeps audience's eyes glued to the screen. As Tarantino's debut into the film industry, this was the perfect hallmark revolution for short and feature length films to come. Films, before and after the debut of this short, for the most part, failed and are failing to match up to the standards of outlandishly sharp writing found here. Even according to contemporary standards, Tarantino continues to be an unconventionally masterful writer and director with the likes of Pulp Fiction, which is arguably considered as one of the greatest films in American cinema, and the rest of his profoundly epic filmography. In other words, the cinematic golden nuggets that are found in his superb feature films are found glimmering in this film. It can even be arguably said that this short film is an experimental film that toys around with the art of engaging conversation, no matter how dreadfully slim the narrative may be. Nevertheless, this is an atypical short that harbors and foreshadows the splendid elements from great feature films to come from the innovative mind of Tarantino.
Albert Kim
Super Reviewer
½
Definitely not essential viewing but for those interested in seeing Tarantino's beginnings, this will be a real treat. The trademark dialogue is already well developed in this one (some was recycled for the Natural Born Killers and True Romance scripts).
Graham Jones
Super Reviewer
My Best Friend's Birthday Quotes
There are no approved quotes yet for this movie.