My Best Girl
(1927)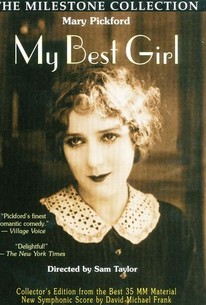 AUDIENCE SCORE
Critic Consensus: No consensus yet.
Movie Info
My Best Girl was adapted from the musical comedy of the same name -- minus the music, of course. Max Figman stars as Dickie Vanderfleet, perennial college student. Lois Meredith co-stars as Dickie's sweetheart, the daughter of his chemistry professor. To protect a fellow student, Dickie hides a co-ed in his dorm room and is promptly expelled, putting him on the outs with the heroine. Disconsolately, our hero plans to sail to Europe, but during his farewell party he gets into a fight with a bully. Mistakenly believing he's killed his opponent, Dickie switches identities with his chauffeur -- who turns out to be an army deserter! Arrested by the MPs, Dickie is forced to don uniform and take up residence in an Army post. Just when things could not possibly get any worse, Dickie is suddenly exonerated of all his so-called crimes and reunited with his girl.
Rating:
NR
Genre:
, ,
Directed By:
Written By:
In Theaters:
On DVD:
Runtime:
Studio:
United Artists
Critic Reviews for My Best Girl
All Critics (1) | Fresh (0) | Rotten (1)
Just a run-of-the-mill conventional Hollywood crowd-pleasing romantic comedy.

Ozus' World Movie Reviews
Audience Reviews for My Best Girl
Although the romance in the film is as predictable as ever, this movie has charm and humor, and great actors. I really enjoyed it and I recommend it.
½
This movie was made in 1927 but made the 1997 Toronto International Film Festival, not sure the history behind this one or why it made a film festival in 1997, but do know it had the very beautiful Mary Pickford in it, and its a silent film, all in all its an enjoyable film and a step back in time. Overall 2 1/2 stars.
Bruce Bruce
Super Reviewer
My Best Girl directed by Sam Taylor written by Allen McNeil, Tim Whelan adapted for the screen by Hope Loring story by Kathleen Norris starring Mary Pickford, Buddy Rogers, Sunshine Hart, Lucien Littlefield, Carmelita Geraghty, Hobart Bosworth, Evelyn Hall, Avonne Taylor, John Junior In this 1927 silent feature showcasing the comedic talents of Mary Pickford, the efficacy of family life is threatened by an uninvited guest that utterly alters the landscape leaving one member in a giddy state from which she cannot recover. It's boy versus girl in the world series of love. Maggie Johnson (Pickford) is a lovelorn shop girl who is utterly devoted to her quirky family in this gallant tale of the irrepressible urgency of young lust. As the film opens she is given the rare opportunity to wait on customers when the boy appears and charms the living daylights out of her. He is Joe Merrill (Rogers), the son of shop magnate Robert E. Merrill (Bosworth) and he's masquerading as a lowly shop boy to prove to his father that he is ready to marry the lovely Millicent (Taylor). It's readily apparent that this match is doomed because Joe clearly has eyes for Maggie and their connection is instant and irreversible. Ma (Hart) and Pa (Littlefield) Johnson are a sorry lot. She's obsessed with crashing funerals and he's a weather beaten shell of a man whose prone to sneezing fits when he's not busy keeping out of the way. Ma is a blustery gal, bloated, with a penchant for smelling salts. Her husband is an emaciated, physically depressed sort and they both move very, very slowly. Sister Liz (Geraghty) is a bit of a siren flapper who digs a small time con named Nick Powell (Junior) and seems hell bent on thrilling it up in the jazz age to the deep chagrin of her parents. Maggie is something of a house slave who cooks and cleans and seems to have given up on her own happiness until Joe breezes in and changes everything. The scenes between Maggie and Joe are brimming with exquisite sexual tension. At work they dine in an overturned bin and fancy it a glorious café. They pull close and their lips brush slightly and it's as charged as anything that has ever been put on the screen. Indeed, it's more erotically stimulating than if they had fully embraced and smothered each other with heated, panting kisses. It builds up the agonizing foreplay that is heightened by the lack of direct physical intimacy. It's enough to know that they want each other and the rest is best left to the imagination. So, Joe is supposed to be out with his family at a surprise party and Maggie is supposed to be home tending to her family. But they dig each other too much to part and they spend a rain-soaked evening together unworried that they are resigned to other obligations. It is playful and sweet when they splash about safe in the knowledge that theirs is an intoxicating bond and they simply do not want the evening to end. Joe gets the wild idea to travel to the bossman's house because one of the mottos of the company is that all the workers are one big family and he proclaims he insists on forcing the boss man to prove those words. Joe and Maggie develop the idea that they are Mr. and Mrs. Merrill as they eat at Joe's table. Naturally his family show up and Joe has to think quickly. Millicent rushes to him and kisses him chastely leaving him no alternative but to brush Maggie aside sending her tear-stained out into the street. The ubiquitous sequence in the rain is charmed by a delicate poignancy as Joe leaves to hunt Maggie down. He convinces her of his love and the pair are reconciled. There is a haunted quality to this film as each character plays out their individual arcs against the backdrop of the tyranny of love. Maggie's family are presented as something of a burden that has forced her into a position of quiet resignation and dire unhappiness. Still, she puts on a happy face and carries her self with dignity never allowing the demands of her family to weigh her down completely. Joe offers her a way out and she's determined to take full advantage of the opportunity if she can only trust herself enough to do so. Maggie is the antithesis of her free-spirited sister who feels no such ties to her family and merely wants to have as good a time as possible out on the town meeting people, dancing, drinking and otherwise experiencing all the superficial and fleeting pleasures of the high-flying jazz age. She is portrayed as a rather loose girl who gets involved with a shady character whose particular vices are not readily explained. Liz manages to get herself arrested for doing lord knows what and her pleas for help are finally answered as she harangues the judge at night court. She finally runs headlong into the immovable force of the law and perhaps her arrest signals something of a critique of the wantonness with which she insists on carrying on. Maggie is the heroic figure who always knows just how to handle her family at all times as she seems to be the only one capable of holding them up. They are all weak in their way and they rely on their energetic savior to protect them when situations get dicey. The sexual politics on display here are a contrast between the virginal Maggie and the more worldly Millicent who most likely has spent a bit of time with her bloomers crumpled in a heap at the edge of this or that bed. It is suggested through posture and movement that there is a big, bad wicked world outside the doors of Maggie's parents place and she is about to enter into it at last. This film challenges the clinging aspect of traditional family life and in its place promotes a life unencumbered by tradition and enhanced by opportunities such as travel. There is an openness to the scenes where Maggie and Joe are freely enjoying themselves out and about with no limitations on their time or their pleasure. Joe is presented as a proper gentleman who has learned how to behave in polite society. He guides Maggie and it seems obvious that he will condition her once she breaks the bonds that afflict her. There is no mystery to how things turn out for this couple because the film is selling an unbridled message of true and lasting love. It's obvious from the start as to where they will be at the end and it's to the film's credit that it maintains the fantasy throughout. These are characters worth believing in and their individual plights have a universal ring of truth to them. Their desires are paramount to the audience's ability to identify with the characters and hope for the realization of all their aspirations and dreams. The performances in this film all take full advantage of the limits inherent in the medium to create characters who are believable and necessary. Mary Pickford possesses an astonishing talent for conveying emotional truths. In her posture and gestures as well as her facial expressions she expresses a wide range of dueling emotions that give her character a complexity that belies the simplicity with which she presents herself. We learn of the tumult in Maggie's soul by paying strict attention to how Pickford plays various scenes where she is downcast, ebullient, damaged, heartbroken, frustrated and the like. All of them comes through and they add a great depth to her performance. Buddy Rogers presents a classy, upstanding lad that is projected also through his posture and obvious charm. Joe is not a complicated boy and Rogers captures his earnestness and naivety with surety and conviction. Sunshine Hart and Lucien Littlefield are thoroughly convincing as the depressed, earth-drawn parents who seem ready to die at any moment. Both actors give nuanced performances of two characters who are utterly wound down and appear exhausted in every scene. Carmelita Geraghty is a spritely thing and it's readily apparent by how she presents her character that this is definitely a good-time girl who is unabashedly modern in her dress and attitude. Overall, this film presents a clear message about the jarring contrasts between small town family life and the allure of life beyond its confines. It both criticizes the excesses of the modern age while promoting it as a healthy, vibrant alternative to the drudge of being bound by tradition and never venturing further than the family homestead. This conflict provides the film with a tension that is readily played out in the relationship between two kids from the opposite side of the tracks.
Everett Jensen
My Best Girl Quotes
There are no approved quotes yet for this movie.