My Brother
(2006)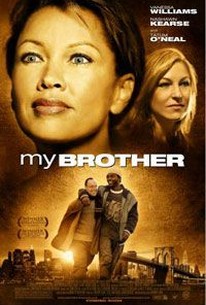 Movie Info
An aspiring stand-up comic realizes precisely how precious the developmentally disabled brother he so frequently took for granted truly is in writer/director Anthony Lover's sensitive family drama. Poetically told by his terminally ill mother L'Tisha Morton (Vanessa Williams) that he and his developmentally disabled brother James (Christopher Scott) share a single soul despite having separate bodies, resentful thirty year-old Isaiah (Nashawn Kearse) longs to explore his stifled independence by testing his meddle on the comedy club circuit. When his dreams go up in smoke, Isaiah falls back on a courier job - initially assigned the task of delivering a mysterious package for an intimidating gang of Middle Eastern thugs. Later, when the package goes missing, the goons who hired Isaiah arrive at his apartment to rough up the frightened courier and his unsuspecting sibling. It's only then, when faced with the prospect of their own mortality, that Isaiah truly begins to comprehend the true depth of his brotherly bond with James.
Critic Reviews for My Brother
Audience Reviews for My Brother
½
My Brother has a touching story, but it wasn't always interesting throughout the movie, and often I found myself bored. Also, the potential girlfriend didn't really add anything to the film. Although I enjoyed the movie, the long drawn out drama got to be a bit much.
DJ Jackson
½
I saw the trailer for this movie and gave it a try.It was a good movie. it was intresting watching the mentally disabled man act. And it had a amusinging story line to following in the beggining of the movie. As i was trying to follow the story of isaiah and the package the movie takes a unessacery turn a show a flash backs of when the boys were kids for quite a stretch
Jarrette Patterson
½
5.5/10. It means well but winds up too preachy and tackles too many issues for it's own good. Vanessa Williams gives an earnest and sincere performance, the rest of the cast does well too.
James Higgins
My Brother Quotes
There are no approved quotes yet for this movie.
Discussion Forum
Discuss My Brother on our Movie forum!