My Dear Secretary
(1948)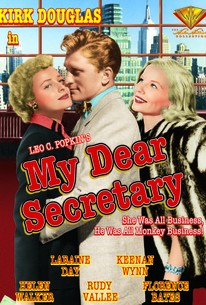 AUDIENCE SCORE
Critic Consensus: No consensus yet.
Movie Info
Kirk Douglas' first comedic performance casts him as Owen Waterbury, a hard-living, womanizing novelist who marries his secretary Stephanie (Laraine Day). After she achieves greater literary success than he, the couple splits, leaving their friends to try to reunite them.
Rating:
NR
Genre:
,
Directed By:
Written By:
In Theaters:
On DVD:
Runtime:
Studio:
United Artists
Critic Reviews for My Dear Secretary
There are no critic reviews yet for My Dear Secretary. Keep checking Rotten Tomatoes for updates!
Audience Reviews for My Dear Secretary
You know how it will end just by reading the title, but this is a funny and entertaining movie with a great cast, so it's worth seeing.
½
Pure fluff with two stars much better then the material given.
[size=5][b]Harry Potter and the Order of the Phoenix[/b][/size] Directed by: David Yates [img]http://krishk.files.wordpress.com/2007/08/harry-potter-and-the-order-of-the-phoenix-1-800x600.jpg[/img] Hmm. Well, there's good news and bad news in regards to this film. The good news is it's no less fun then the first two entries into the series, and the children are maturing as actors. The bad news is that it's definately a step down from the third and fourth parts of the series. I liked the "Is Harry a Liar?" aspect, the idea of him being isolated in his own community was a good way of making his relationships with other characters interesting. I also thought the secret wizard school was pretty good. The FX are as good as ever, although there is nothing nearly as cool as the dragon fight in part 4. Anyhow, not a lot to say. It's a fun film, about equal to the first two parts of the series, but not as good as three and certainly not as good as four, which is easily my favorite. [i][size=4]7.5[/size][/i] [i][size=5][b] My Dear Secretary[/b][/size][/i] Directed by: Charles Martin [img]http://www.oliveoyls.com/store/media/movie-MyDearSecretary.jpg[/img] This is a fun, but basically typical and forgettable romantic comedy from the late 40's. Douglas plays a best-selling author who's lost confidence in his abilities to write a truly good book, and his new secretary ends up being his party companion more then a secretary. Eventually, they wind up married, but things get complex when she writes a book that's better then anything he's ever written. So yah, you get what you pay for. Not bad, nothing memorable. [size=4][i]6.0[/i][/size] [size=5][b] Scrooged (5th or 6th viewing)[/b][/size] Directed by: Richard Donner [img]http://videodetective.com/photos/066/002809_38.jpg[/img] This is one of my favorite christmas movies. Bill Murray is at his best. Since I'm sure you've all seen this wonderful spoof, I'll just list a few quotes: "AAAAAHHHHHHHHHHAAAAAAAAAAAAAAAAAAA!!!!!" (points) (silence) "YOU GOTTA WORK LATE!!! IF YOU DON'T WORK LATE, I CAN'T WORK LATE! IF I CAN'T WORK LATE...I CAN'T WORK LATE!!!" "I don't remember much after that, because ever since, I've been lousy, stinking drrrrrruuuu..." :BOOM!!!: "Done that. Tried that. Done this. Oh, I don't believe this for a second, it says there's a place you can touch a woman that makes her bark like a dog." [i][size=4]8.5[/size][/i] [size=5][b] All I Want for Christmas (Many viewings)[/b][/size] Directed by: Robert Lieberman [img]http://www.annshallmark.com/movies/pardv326884.jpg[/img] I've enjoyed this movie for some years...pretty much ever since it came out. Anyhow, its basically a rehash of "The Parent Trap" with a christmas twist thrown in, but I actually like it quite a bit more. It's got a more realistic feel (at least as far as family movies go), and it's got a wonderful cast and some great tender moments that kind of remind me of Saved by the Bell for some reason. I love the relationship between Ethan and Stephany, great tween chemistry. The cinematography in NY is good too. I liked some of the songs. It does have some cringeworthy moments, but overall, an enjoyable film of its sort. Oh, and it's also got the biggest collection of former, future and current babes I've ever seen in any Christmas movie. First off, it's got current/sorta former babe Harley Kozack, who had a relatively brief career in the 90's during her 30's. She always played a motherly sort, but she's got to be the single biggest MILF I've ever seen in movies like this. She also played in a guilty-pleasure favorite of mine, Necessary Roughness. Then, of course, it's got Amy Oberer, who is barely already a babe/kinda future babe. She was on the border of being legal or not in this movie. Anyhow, she plays the love interest of the man character and is super cute. Then of course, it's got Thora Birch, who's only like 10, but we all know how she filled out. Quite nicely if you ask me. Then, it's got Lauren Bacall, who was quite a babe back in her day, although she's pushing 70 in this movie. Anyhow, now that I have pontificated about sexy babes over 60 and under 15 in a movie meant for 11 year olds, I'll shut up now. [size=4][i]7.5[/i][/size] [size=5][b] Indiana Jones and the Temple of Doom (10th or so viewing)[/b][/size] Directed by: Stephen Speilberg [img]http://www.indianajones.de/indy2/pics/film/doom_53.jpg[/img] Honestly? This is probably my favorite Indiana Jones movie. I think that mostly comes from the fact that I wasn't allowed to see it till I was in my teens, while I started watching Raiders when I was 5 and Last Crusade as soon as it came out on video, so I've seen it a lot less times. I also have a facination with India, although it turns out, it was filmed almost entirely in sri lanka. Anyhow, something about the zany energy of this film and the spectacular sets really does it for me. I haven't seen this in forever and I somehow got a hankering to watch it. Great stuff. Oh, Short Round rules. [size=4][i]10[/i][/size]
Cliff Smith
My Dear Secretary Quotes
There are no approved quotes yet for this movie.