My Father, the Genius
(2002)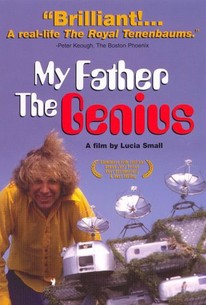 My Father, the Genius Photos
Movie Info
Filmmaker Lucia Small explores just what becomes of a dreamer as his life draws to a close and his ambitions go unfulfilled in an irreverent documentary set into motion when architect Glen Small charged estranged daughter Lucia with the task of penning his biography. As far back as Lucia could remember, her father Glen had been letting her and the rest of the world know in no uncertain terms just how much of a genius he really was. Yet despite the once-promising architect's undeniably impressive work, the damage caused by Glen at home seemed to negate any professional success in the eyes of his oft-neglected daughter. A rising star at the age of thirty-one, Glen now struggles simply to make his house payments. Now, as Lucia stages interviews with the peers, clients, former students, children, ex-wives, and former girlfriends of her egotistical father, the personal and professional details of Glen's life come together to paint a compelling portrait of unfulfilled ambition and familial dysfunction.
Critic Reviews for My Father, the Genius
All Critics (5) | Top Critics (1) | Fresh (5) | Rotten (0) | DVD (1)
Scenes in circular frame effectively convey a fresh daughter's-eye view of her father's nonlinear universe; skillful editing keeps the whole package in balance.


"My Father, The Genius" is both a documentary about a self-proclaimed genius and his work and a long-needed family catharsis.

Audience Reviews for My Father, the Genius
½
Something About Fathers, I Guess As is obvious to those paying attention, I'm working on movies starting with "my" from the library catalog. I haven't reviewed all of the ones I've watched; I haven't finished all the ones I checked out. But it's worth noting that there are a lot more movies starting with "my father" than with "my mother." My own personal experiences are more slated toward my mother. Well, they would be. My father died when I was six. But there are an awful lot of people trying to work out their father issues on film. There's that movie where the kid, his mother, and his siblings live on Corfu, but that's as much about the siblings as the mother. For the most part, that seems to be it. But there are two movies here in a week about people exploring their relationship with their fathers through their fathers' architecture. And the fathers are a lot more similar than a cursory examination of merely their stories would suggest. In this case, the architect father is Glen Howard Small. He is considerably less well known than Louis Kahn. I mean, he doesn't even have his own Wikipedia page, much less a lengthy one extolling the virtues of his architecture, full of pictures. His personal life was much simpler, too. He had two wives, but in succession; all of his children were legitimate. And he assigned his daughter, Lucia, the task of writing his biography. Her response was this film, which I think hit him rather closer to home than he'd anticipated. He probably wanted her to, well, extoll the virtues of his architecture. Several times, as she is filming him, he is telling her to film the building instead. But what we get instead of just an analysis of his work is a picture of the man, and it's not a man with whom I am inclined to spent a great deal of time. I like the buildings better; they are more organic. But I don't think they're as practical, and I don't like the man much at all. The thing which struck me most was his determination to replace the City of Los Angeles with this megastructure, this enormous hammock-like structure which seemed in several ways inspired by Disneyland and which missed all the ways that doesn't work. His chosen method of in-city transportation was based on the Skyway--which they took out years ago because of certain flaws like the fact that it was possible to take a header out of them. He also doesn't ever seem to have considered the practical difficulties of constructing the thing, not least being that you'd have to put all those people you're displacing somewhere between the time you've destroyed hundreds of acres, thousands of acres, of Los Angeles buildings and the time the megastructure is completed to house and provide work for all of them. His vision was more important than silly things like "facts." And surely we all knew that! Several people speak of the implausibility of the whole thing, but Small dismisses them. It is my feeling that, the more times you feel obligated to tell people that you are a genius, the less we should take you seriously. It's true that a few of his ideas are good enough, even practical. And certainly some of his buildings are lovely. But he seems one of those people who thinks that his genius is more important than literally anything else. His relationship with his daughters is strained at best. His ex-wife implies kind of strongly that she thinks he's a lunatic. It's certainly clear that he cares more for his buildings than his offspring. By the time we meet him, he has lost practically everything and is deep in debt. He has alienated large numbers of his friends and colleagues. We see him working with clients, and he is resentful of the idea that he has to change anything about his vision in order to provide paying customers with a house that meets their needs. Such as one which makes it obvious to visitors where the front door is. Possibly the most significant moment of the movie comes when Lucia discovers that her sisters consider her to be the closest to their father. Clearly, she doesn't entirely feel she knows him. I don't think she entirely wants to. She hasn't admitted to herself yet that she doesn't like her father very much. I don't blame her. Her father does not come across as a very likeable person. But I think it might have been better for the movie if she could acknowledge just how much she resents him. After all, he was pretty cavalier about his insistence that she write his biography. As if she had nothing better to do than catalogue her father's hopes and dreams. His failed vision. Doubtless her father thinks that the fault is in the myopic sight of all those around him, not because his ideas are ludicrously impractical. I would have liked to have seen her anger. I would have liked to see her frustration. Oh, it is true that a journalist should remain objective, and objectivity is better than the hagiography her father doubtless wanted. However, documentaries do not have to play by journalistic rules all the time.
Edith Nelson
[url="http://www.rottentomatoes.com/m/1174639-my_father_the_genius/dvd.php?select=1"][img]http://images.rottentomatoes.com/images/movie/coverv/97/952497.jpg[/img][/url] Excellent documentary about a man who loves his work more than his family, but gets more recognition from his family than he ever did his work. Funny and important film about dysfunction, art, and making a living in America.
M Sarki
½
Pretty much on the boring side. I wonder if the director managed to get out of debt after making this movie (she said she was living on her credit cards as a result of creating this film).
Lene .
My Father, the Genius Quotes
There are no approved quotes yet for this movie.
Discussion Forum
Discuss My Father, the Genius on our Movie forum!