My Favorite Blonde
(1942)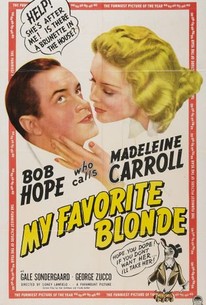 My Favorite Blonde Videos
My Favorite Blonde Photos
Movie Info
Each of Bob Hope's "My Favorite" films (My Favorite Blonde, My Favorite Brunette, My Favorite Spy) was, by accident or design, a parody of a dead-serious movie genre. 1942's My Favorite Blonde, for example, was a takeoff of Alfred Hitchcock in general and Hitchcock's 39 Steps in particular. Two-bit vaudeville entertainer Hope gets mixed up with gorgeous blonde British-spy Madeline Carroll. The "maguffin" (Hitchcock's nickname for "gimmick") which ties the two stars together is a ring which contains the microfilmed plans for a revolutionary new bomber. Hope and Carroll are forced to take it on the lam when Hope is framed for murder by Nazi-agents Gale Sondergaard, George Zucco et. al. Highlights include Hope eluding capture by impersonating a famed psychologist (watch for Carl "Alfalfa" Switzer as Hope's most contentious "patient"). Madeline Carroll also got several opportunities to shine comedically, especially when she lapsed into cloying baby talk while posing as Hope's wife. Bob Hope was hesitant to work with My Favorite Blonde director Sidney Lanfield, having heard of Lanfield's reputation as an on-set dictator. However, the two got along so swimmingly that they would collaborate on such future top-notch Hope farces as Let's Face It (1943) and The Lemon Drop Kid (1951).
Rating:
NR (not Rated)
Genre:
Directed By:
Written By:
In Theaters:
On DVD:
Runtime:
Studio:
Universal Studios Home Video
Critic Reviews for My Favorite Blonde
Audience Reviews for My Favorite Blonde
½
A Curiously Generic Spy Pic At one point, the movie makes a confused reference to Nazis, but mostly it's "their side" or "the enemy." The truly odd thing about that is that the film was released late enough in 1942 so that it was almost certainly made after Pearl Harbor. After all, it's not as though the average Bob Hope movie took a lot of work. There's one shot which has obvious optical effects, but other than that, special effects weren't a big issue. Filming would not have been complicated. In short, I can't see that this would have taken more than a month or so to make, and while I don't know how long it would have taken to get into the theatre after that, it still seems odd. The Hollywood system was another aspect of US industry gearing up for war, and it's true that there was a little bit of lag between the declaration of war and the real era of Hollywood war movies. But this is a war movie that's basically ignoring the fact that there is a war. Karen Bentley (Madeleine Carroll) is a British agent carrying plans for the deployment of some bombers, I think. She is being pursued by every spy in Manhattan. While she is hiding, she ducks into a vaudeville theatre, where she claims to be a friend of Percy and Haines--but Percy is a penguin, with Bob Hope as Larry Haines, the penguin's partner. Through a convoluted series of events, she ends up on a cross-country chase dragging man and penguin along. They go to Chicago, to various small rural towns, to Riverside, to Los Angeles. Pursued by the same group of spies, so I guess it's every spy in the US. Along the way, the spies convince the police that the pair are the killers, and I suppose it's true that there is a body in the Chicago apartment they go to. They're also taken out of there by the police. But the whole thing gets a little ridiculous, because this is a Bob Hope movie. There's even a gratuitous Bing Crosby cameo. Really, the point of any Bob Hope movie is to listen to Bob Hope make wisecracks. The plot is basically superfluous, and we all know it. Including Bob, of course. He tended to use a gimmick of some sort; in this case it's the penguin, to which his character really does seem genuinely attached. Oh, he cares about the money he'll get from putting the picture in show business. A penguin act can pay for a lot of fish. But probably one of the reasons the penguin is such a great gimmick for him is that it doesn't have any lines. Meaning that, unlike Bing, the penguin can't step on them. Though I'm not sure there was ever a girl in a Bob Hope picture who wasn't there to feed him straight lines, and it's true that the penguin can't do that. Still, he gets to make all sorts of snarky comments about her, about the penguin, about the spies. About anyone who'll hold still long enough, in short. And that's exactly what we expect from him and from the picture. I don't know if it was the intent, but movies like this serve to remind us that the war wasn't just fought by heroes. At the same time that Bob Hope was battling Nazis, whether the word was used or not, a lot of ordinary guys were heading to recruiting offices. Many of them would see Bob Hope perform, wherever they ended up, and not all of them would make it home. Oh, yes, Bob Hope's character wasn't exactly planning to go into uniform; no one even suggested that he would. And Bob Hope himself didn't actually join. I feel certain I must have read why once, though I don't know quite when, and I don't remember the reason anymore. (I read a book about the USO, and it was probably in that.) I know the British government told Cary Grant he was doing more for the war effort by not joining, and it's possible Bob Hope had that going. Not to mention that he wasn't exactly a young man anymore, though that didn't stop a lot of the greatest names in Hollywood. Even if they weren't attempting suicide through it, like Clark Gable. This is light, whimsical fare--well, it's a Bob Hope movie. It never even really feels as though Bob Hope and the girl (she has a name, but it really doesn't matter any more than the name of his character matters) are in serious danger. About the only people we see in uniform are cops. There's a plane crash, but it happens offscreen and no one is even injured. Really, the villains of this piece could have killed Bob Hope half a dozen times with no worries before he even knew what was going on, and they never do. The fact that the story doesn't entirely make sense also doesn't matter. A lot of this sort of movie was made, and the goal was to be a mild distraction from what was actually happening at the time. Bob Hope chases a girl and dodges danger all at once. Accompanied by a penguin. If you're looking for something more complicated than that, what are you doing watching a Bob Hope movie in the first place?
Edith Nelson
Another very funny Bob Hope movie. It has humor, excitement, and a bit of suspense. If you're a fan this is a must see.
Great comedic moments from Hope in this classic.
Anthony Valletta
Super Reviewer
My Favorite Blonde Quotes
There are no approved quotes yet for this movie.