My 5 Wives
(2000)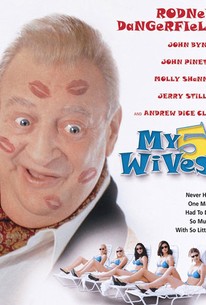 Movie Info
In order to obtain land in Utah for a ski lodge, a real estate developer (Rodney Dangerfield) joins a religious community and discovers that he must marry the deceased property owner's wives. Problems ensue when an unscrupulous bank officer (John Byner) and a gangster (Andrew "Dice" Clay) conspire to take the land away from the developer.
Audience Reviews for My 5 Wives
Maybe a little forgetful unless your a huge Dangerfield fan. A few extra points for the use of The Diceman. There's some funny banter, but mostly the typical, smartass wit of Rodney.
Darrin Craig
½
***Due to the recent RT changes that have basically ruined my past reviews, I am mostly only giving a rating rather than a full review.***
Steve Smith
½
Even Rodney can't save this one, though the first third of the film is amusing. But how long can even the great Dangerfield sustain an hour and a half comedy when he's the only one funny. Dangerfield wrote this and co-stars with a now older Andrew Dice Clay and former sixties comedian John Byner (who I failed to recognize though I should know better) plus veteran comedian Jerry Stiller. Comedian Rodney Dangerfield plays wealthy business man, Montey Peterson, who travels to Utah hoping to open a ski resort after his latest marriage ends in divorce. He competes against an 'evil' banker, Preston Gates, hoping to snatch land from the defaulting farmers to gain control for mob investors who want to build a casino. After winning a land auction Montey goes to a restaurant with his construction friend who explains the polygamous traditions of the area, much to the interest of Montey. A three time loser in marriage, the ever lustful Dangerfield is posed with the prospect of marrying 2 young, beautiful girls from this Mormon community where he wants to build his ski resort. The community is against everything Rodney loves... smoking, drinking, partying. Still, he no sooner hits town and he weds 3 of the town girls before discovering he has to wed 2 more to get his ski resort built. A mindless plot, the film is purely a vehicle to display Rodney Dangerfield in all his one-liner glory, of which he was a modern day master (save for Henny Youngman, of course). And lots of one liner jokes abound in this lighthearted, innocent comedy. One fan wrote: "Being an avid Rodney fan, I probably liked this flick a lot more than if I weren't. I thought his last effort - Meet Wally Sparks - was pretty poor, and I found this to be an improvement, perhaps because it uses Rodney's old stand-up persona to greater effect. Once you pretend you don't know that polygamy is illegal in the U.S, you can sit back and enjoy the many jokes about the difficulty Rodney has in, er, fulfilling his husbandly duties toward his five wives. This is hardly a great comedy, but well worth catching for devoted fans of Mr. Dangerfield." I am Dangerfield's biggest fan as a standup comic, but even I found this movie difficult to sustain my interest. To the movie's defense however, I was tired at the time of viewing and could have more patience were it not for being sleepy. I am going to give this a 70% as it is pretty average and mildly amusing. See it on hulu.com here: http://www.hulu.com/watch/113945/my-five-wives Rodney Dangerfield ... Monte Peterson Andrew Dice Clay ... Tony Morano John Byner ... Preston Gates Molly Shannon ... Barbara Van Dyke Jerry Stiller ... Don Giovanni John Pinette ... Stewart Rob deLeeuw ... Shuffles (as Rob Deleeuw) Fred Keating ... Ray Jud Tylor ... Stephanie (as Judy Tylor) Angelika Libera ... Emily (as Angelika Baran) Kate Luyben ... Virginia Emmanuelle Vaugier ... Sarah Anita Brown ... Megan Karin Konoval ... Janet Brandy Ledford ... Blanche Director: Sidney J. Furie Writers: Rodney Dangerfield, Harry Basil 100 min .
monsieur rick
My 5 Wives Quotes
| | |
| --- | --- |
| Peterson: | I'll tell you one thing about LA. The population never changes. Every time a kid is born, some guy leaves town. |
Discussion Forum
Discuss My 5 Wives on our Movie forum!