My House in Umbria
(2002)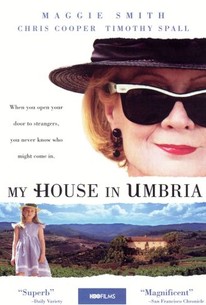 AUDIENCE SCORE
Critic Consensus: No consensus yet.
Movie Info
Richard Loncraine's adaptation of William Trevor's My House in Umbria stars Maggie Smith as novelist Emily Delahunty. After a bomb explodes on a train car carrying Delahunty, she persuades three of her fellow survivors to recover at her estate. The threesome includes the General (Ronnie Barker), Aimee (Emmy Clarke), and a German man named Werner (Benno Fürmann). The four begin acting like a family, which pleases Delahunty greatly. Conflict arises when Aimee's uncle Thomas (Chris Cooper) comes to collect his niece. My House in Umbria was made for HBO and screened at the Santa Barbara Film Festival.
Critic Reviews for My House in Umbria
All Critics (4) | Top Critics (1) | Fresh (1) | Rotten (3) | DVD (1)
The scenery in this film is lush, the acting strong. But the material wanders and falters.

Ebert & Roeper
Top Critic
A story about guilt, love and happy endings, My House in Umbria is a delightful and uplifting encounter.
Thin and uninvolving ... [but] the performances are good in a muted sort of way.

Audience Reviews for My House in Umbria
½
Is a Drunk Really Better Than Stuffy People? This is another one of those movies I had a hard time with because it features a character who shares aspects with the worst image I have of myself. In this case, it's also that she's a sloppy drunk. But one of the things which worries me about myself is a fear that no one is really interested in anything I have to say, that people I care about a great deal and whose opinions I value are just humouring me and really say terrible things about me behind my back. I'm pretty sure this isn't actually true, though of course odds are good that I'll never know, but I have a hard time watching movies with characters like that, because I start going over in my head everything I've said to anyone I've talked to all day. This is not fun, and had I started the movie earlier than nine o'clock at night, I probably would have turned it off rather than fret to myself about it. As it is, I could either risk not finishing a review today or watch to the end. Mrs. Emily Delahunty (Dame Maggie Smith) is one of the passengers in a very crowded railway carriage in Italy. She is attempting to entertain Aimee (Emmy Clark) when there is an explosion. Emily awakens in the hospital. A bomb went off in the carriage, leaving as survivors herself, Aimee, The General (Ronnie Barker), and Werner (Benno Fürmann). Killed in the explosion were the General's daughter (Alison Cameron Adam), Werner's girlfriend (I think Madeleine, played by Silvia De Santis), and Aimee's parents (Dierdre Harrison as Phyllis, her mother; her father is uncredited). Inspector Girotti (Giancarlo Giannini) wishes them all to stay near while he conducts his investigation, so Emily invites them to stay with her at her country villa. Aimee, in particular, needs somewhere to stay while she awaits the arrival of her American uncle, Professor Thomas Riversmith (Christ Cooper). The survivors come together, but there are things destined to pull them apart. For once, I am not at all surprised that the child survivor of a horrific event is not whisked into therapy. There are some pretty major extenuating circumstances; after all, Aimee speaks little or no Italian, so they'd have to find a therapist who spoke English. Everyone expects her to go back to America with her uncle; it isn't necessarily a good thing to start the clinical process with the full understanding that the patient will have to start over again with a new therapist, especially if the patient is a child. And, of course, there is uncertainty over the extent of Aimee's brain damage. She does not remember the crash; well, that's not terribly unusual. But there are several other gaps in her memory and a serious implication that she has trouble forming new short term memories. At least Dr. Innocenti (Libero De Rienzo) makes regular housecalls to check on how she's doing. And if there's a child psychologist in the area who speaks English, one suspects Dr. Innocenti would know about it. Part of the reason I didn't have time to turn this off and start something else was that we didn't really see that uncomfortable side of Emily until Tom showed up. Inspector Girotti seems to like and even respect her. Her man-of-all-work, Quinty (Timothy Spall), adores her. (It turns out she rescued him when he was ill and alone in Marrakesh.) The General is gruffly fond of her, and Werner cares enough so that he comes up with the idea of making her the English cottage garden she has always wanted. It takes a while for Aimee to be shown to have much of an opinion about anything; brain damage will do that to a person, after all, not to mention the trauma of losing both your parents when you are far from everything you've ever known. But it is only when Emily begins to make a drunken fool of herself over Tom that we really see the worst of her--and we begin to agree with Tom when he paints a negative image of her character, meaning that I was even more uncomfortable than I would have been anyway. Of course, Emily has her reasons. She gives Tom far more information than I think he ever wanted about her life before Umbria and the romance novel-writing career which paid for her villa. Though some of the more sordid details are glossed over when she talks and only shared with us as an audience. Perhaps if she'd shared a bit more of it with Tom, he might have understood why she got wasted on grappa every day, why she was trying to push a drink on him at nine in the morning. She does manage to tell him enough to make him deeply uncomfortable. I think this is intended to make us think that he couldn't possibly be good for Aimee, especially since he fought with her mother before she was born and had never met her before. However, what it made me think was that Emily wasn't necessarily the best caregiver for a damaged child. The only way to be better than your own upbringing is to be aware of what the people who raised you did wrong. While Aimee is safe from some of the damage Emily suffered, I'm not sure she is safe from enough.
Edith Nelson
Something about this film was just a tad off for this viewer. Maggie Smith as Mrs. Delahunty is faultless, but the story was maybe a little too pat, the treatment a little too sugary, the ending a little too deus ex machina. One expects a little more from a film produced by HBO. This seemed more suited to Hallmark. Beautiful cinematography, solid pacing, a decent cast, but still something was missing to make this truly enjoyable. I liked it, I just didn't love it.
Mark Abell
Super Reviewer
A surprising and interesting story of strangers coming together.
Sunil Jawahir
Super Reviewer
My House in Umbria Quotes
There are no approved quotes yet for this movie.
Discussion Forum
Discuss My House in Umbria on our Movie forum!